Nationwide Video. Servicing the showmaker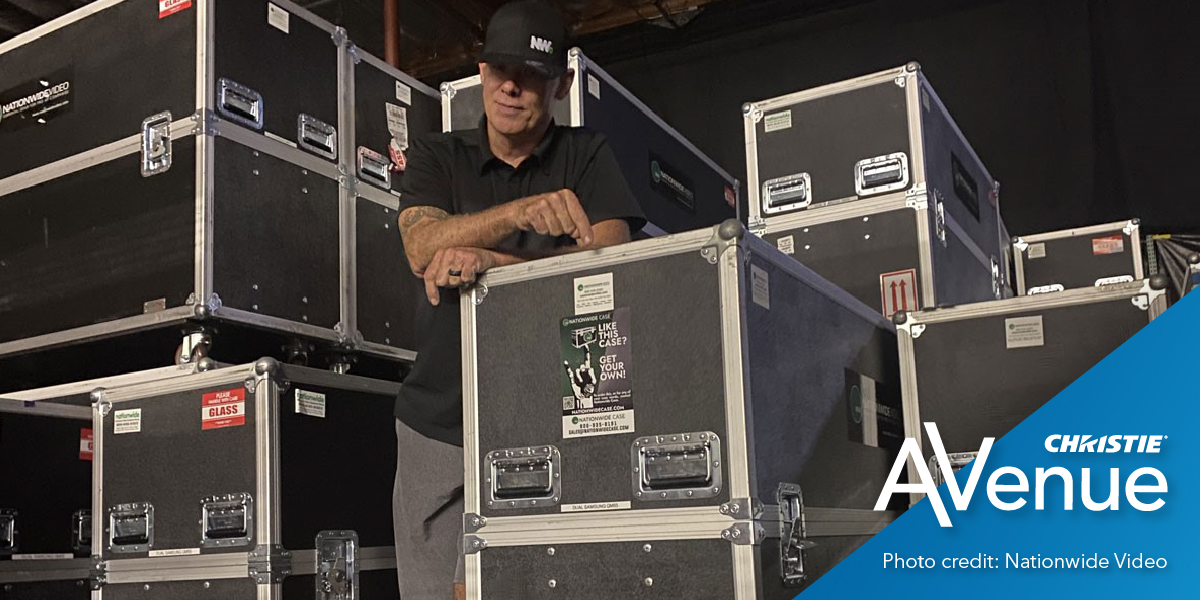 These things always happen when you're furthest from home, when time is at its tightest, and when the stakes could not be higher. The malfunctioning equipment, the unplanned event, the mislaid piece of manifest – the little unexpected things that undo months of careful work.
And when it does happen, any showmaker worth the name has their little black book: the names they can call day or night who'll pull out all the stops, a rabbit out of the hat and like magic, save a show from almost certain disaster. Or at least they used to. As shows have become more complex and equipment more capable, the need for specialist support has grown beyond the scope of any black book – something that's led to a new breed of rental companies supporting these showmakers.
Anywhere, anytime
One such is Nationwide video; it has 11 locations across North America, global reach, and an inventory to die for. But it also has its own logistics division that makes sure that gear can get anywhere anytime, a training division, rental and sales, and most importantly of all, one, single, 800 number. One number you can call from anywhere on the planet that opens up a little black book the size of Wikipedia.
Their in-house knowledge is phenomenal, and on the rare occasions they don't have it on their racks, they'll know where to get it, and if they don't know the answer, they'll know who to ask. There are, of course, things they don't do. Like rent to anyone but Pro Event Stagers, or run shows themselves. But everything else, from rental, sales, training, repairs, to cases and 24/7/365 support, that's what they do.
Everything's cool
Speak to Bret Tracey, president of Nationwide Video, and you'd be forgiven for thinking this is a laid-back surfer dude talking. Nothing's a problem, everything's cool, it's all gonna happen. But Bret is a hockey boy at heart – still plays – and runs an organization that's as sharp as quarter-ground hockey skates on freshly Zambonied ice.
"You can call us. Doesn't matter if you've hired our gear or not hired our gear; you just call us. We're like an emergency room for the AV industry, we don't care where it went wrong; we're just going to get it fixed as fast as we can. We have a team with very specific skill sets of Pro Audio Visual just ready to help clients troubleshoot or remotely assist in finding a solution. I can't tell you the number of times we're called last minute to fix or save a show."
Constantly adapting
Nationwide started as a subrental company filling the need for the industry. "We're known for having one of the largest assortments of projection in the industry, but that's not all. Our LED is on sets all over the country and in the hands of professional stagers daily. But it's not just the projection and LED. The fleet includes cameras, audio, monitors, switchers, and more available to support the showmakers. And we constantly adapt, so clients are always supported." In the months before the pandemic, Nationwide stocked up on streaming products – even FM transmitters – ensuring clients could operate and pivot as needed.
Training too
This isn't to say Nationwide is only there for when things go off-center. They also help keep things on track right from the very start – which is where training comes in. "It used to be that you could pick up knowledge as you went along – that was the traditional AV way – but it's just too complex now – and in truth, showtime was never the best time for education."
Bret also points out that there are now new faces in the industry who haven't taken the slow road up the old hands have. "We offer the certification and training technicians need to operate new and emerging technology and software. We also teach and certify for the manufacturers." Nationwide is really bridging the gap for Pro AV professionals.
For while a lot of Nationwide's training is tech orientated, the emphasis is on the correct level of tech. "A producer does not need to know how to do something themselves but what expert hands are capable of, so Nationwide will help develop those experts in clients. The reality is that Pro AV is now at a point where technology and innovation is accelerating the show. Everyone now needs to make sure they have the skillsets for software as much as they once had technical and physical design."
A service to the showmakers, before, after, and during an event.