Laura Fumagalli of ARCADIA cinema and the craft of cinema showmaking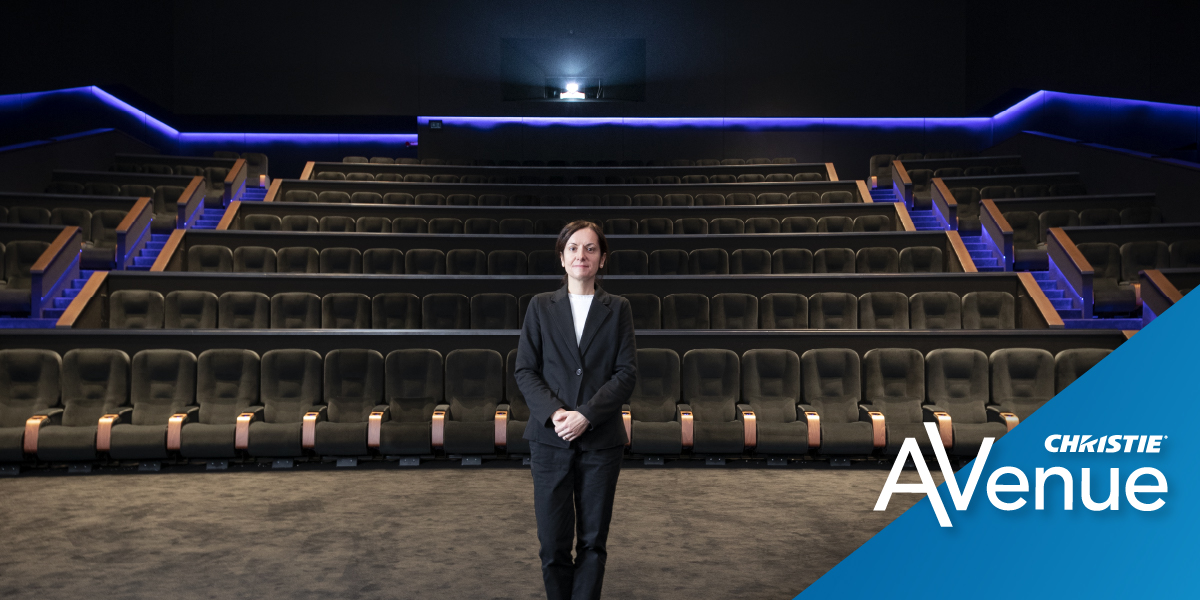 It's often said the great showmakers swim against the tide, taking risks others would not. And while that's undoubtedly so, what truly differentiates great showmakers is getting the basics right; they're masters of their craft. It's something that becomes clear when you talk to people like Laura Fumagalli of ARCADIA. A second-generation independent exhibitor—her father Piero began the business back in 1979—she's part of the team that gives direction to one of Italy's most successful, innovative, and ambitious chains.
Never dimmed
That enthusiasm and her ambition for ARCADIA are evident, and neither have dimmed by the rise of streaming or the impact of COVID-19. Indeed, when AVenue caught up with Laura just before Christmas, she was enjoying the crowds that "Spider-Man: No Way Home" had brought to the new 7-screen ARCADIA Stezzano cinema 6 km from Bergamo. The first cinema in Europe where all screens are equipped with Christie RGB pure laser cinema projectors, 4K with UHC lenses and CineLife+ Series 4 and the first independent cinema to open in Italy since the start of the global pandemic in 2020. ARCADIA Stezzano is a bright spot in uncertain times, but one in which Laura has absolute faith.
"The big screen experience is, and always will be, unique and memorable. Besides being an out-of-home, communal experience, all of us are rendered small in front of that huge screen, immersive sound, and unique architectural environment when a great story is projected in front of us," says Laura. "It's impossible in any other context; those unique experiences are the ones the audience will remember forever and talk about with future generations and friends for decades to come. The amazing global box office of 'Spider-Man No Way Home' over these past few days is such a wonderful proof of that—and the same always will happen with great cinematic experiences from passionate producers and visionary creatives."
Cinemas we would love
Laura says ARCADIA's approach to building a cinema now is no different to pre-pandemic, pre-streaming times. "Our primary focus is offering the absolute best experience to our patrons. So we build cinemas we personally would love, bringing together manufacturing companies and suppliers to achieve that goal—but pass on a passion for the theatrical experience to staff and audience members. To me, nothing is more important than that."
Being part of a showmaking family certainly helps too, she says that being a visionary is essential, but that meeting the consistently high standards of the craft of cinema exhibition is just as important and has been since her father first entered the industry. "As an independent theatre owner, we get 360-degree vision and an understanding of the whole theatrical business. It means working day after day, taking risks, and watching it all happen," explains Laura. "But if cinema is part of our lives, it's part of our personal lives too. That's lots of effort and sacrifices over the years, but when all that effort is followed by unique theatrical moments, it's simply a privilege.
A dual obligation
Yet Laura says that her most significant personal reward is, "Feeling the genuine appreciation and excitement of our raving fans, our patrons, especially when I meet different generations together. That's when I feel immense respect and a dual obligation—both toward the creative community on the one side and to audiences on the other."
In other words, being a showmaker and making shows.