Keeping the swans afloat with dreamlaser's Diana Kurovsky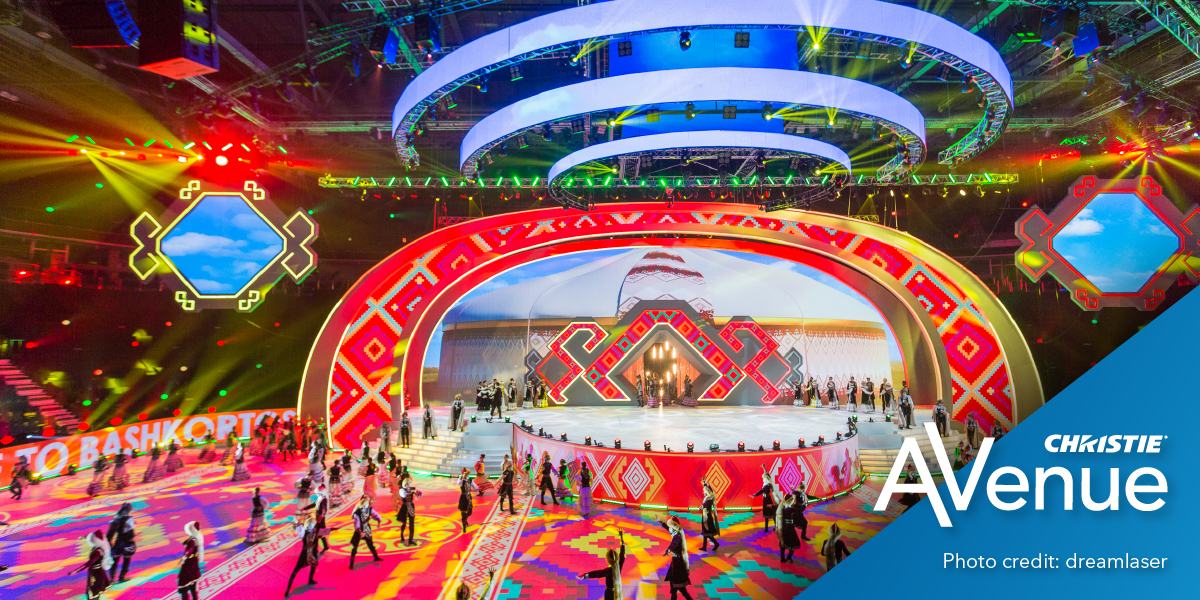 The most dramatic moment in most productions often takes place at 3:00 in the morning, a week before the show, when the producer suddenly wakes and remembers everything they've forgotten to do. In those lonely moments, the producer's life, career, and reputation flash before them. Then they inevitably realize everything's already done, and they sleep soundly again. For a while.
If a show is a swan, producers are the feet paddling madly beneath— if they stop swimming, everything sinks. In one of her few quiet moments, we caught up with Diana Kurovsky, a producer at dreamlaser in Russia and one of those people who never stops paddling.
At the center of everything
Long-time Christie partner dreamlaser has been around since 2005, covering the complete production cycle of live events from the development of concepts through to final technical implementation and staging. They create content, manage projection and light, develop and visualize tech and creative solutions, and even have their own logistics center and content production studio. And Diana is one of those people at the centre of everything who quietly makes sure it all goes to plan and that the show her clients are promised is the show her clients get.
Diana says she often has 3 or more dreamlaser projects on the go at any time—all at different stages, and with varying levels of demand—but each capable of waking her in the early hours of the morning. dreamlaser created the main show content for the Russia Pavilion at Expo 2020 Dubai, where Simpateka Entertainment Group conceptualized and planned the installation, and Big Screen Show provided equipment and technical support. dreamlaser also created a huge stadium show for VI CIOFF World Folkloriada in Ufa and the Mercedes-AMG launch event in Shanghai 2019 – among many other technological, creative multimedia shows.
One such was the Russian Student Spring National Festival 2021. No mere student party, it took over the Nizhny Novgorod Stadium, which was built as a venue for the 2018 FIFA World Cup, featured a specially composed score, and was powered by 24 Christie® D4K40-RGB pure laser projectors and 12 Christie Boxer® 2K30 projectors. It was enough to keep anyone awake. It was, says Diana, "One of those projects that turns us all into 24/7 working machines."
The invisible woman
As Diana also explains, her job is not only to get things done but to remain invisible. If she has been successful, the audience, and to an extent, the participants, should not notice her work. Every show should appear natural and flawless, its component parts working together in complete harmony. That, she says, means producers sometimes don't get the recognition they deserve—such as some acknowledgment that their role is as creative as any other and that it's no small feat to create the detailed spreadsheets needed to meet the deadlines involved in managing events of this scale.
"We live in a world where the impossible seems easily achievable even though that's not the case. Clients see enhanced-reality videos on YouTube and quite understandably believe they are real-world. Part of my challenge is to explain this and to show that we can achieve results better suited to live audiences by other means. On the other hand, that same desire for originality and the complexity of execution this brings is a point of growth for the multimedia industry," Diana explains. "Our specialists know exactly what can be achieved. I have to be able to translate that to my clients in terms they can easily understand and that—not spreadsheets—is a producer's real superpower."
All so the swan can sail serenely on.