Sandy Mitchell; Sixteen and Super Speedy
Sandy Mitchell. Scottish, Sixteen and Super Speedy.
Christie sponsors motor racing's bright new star.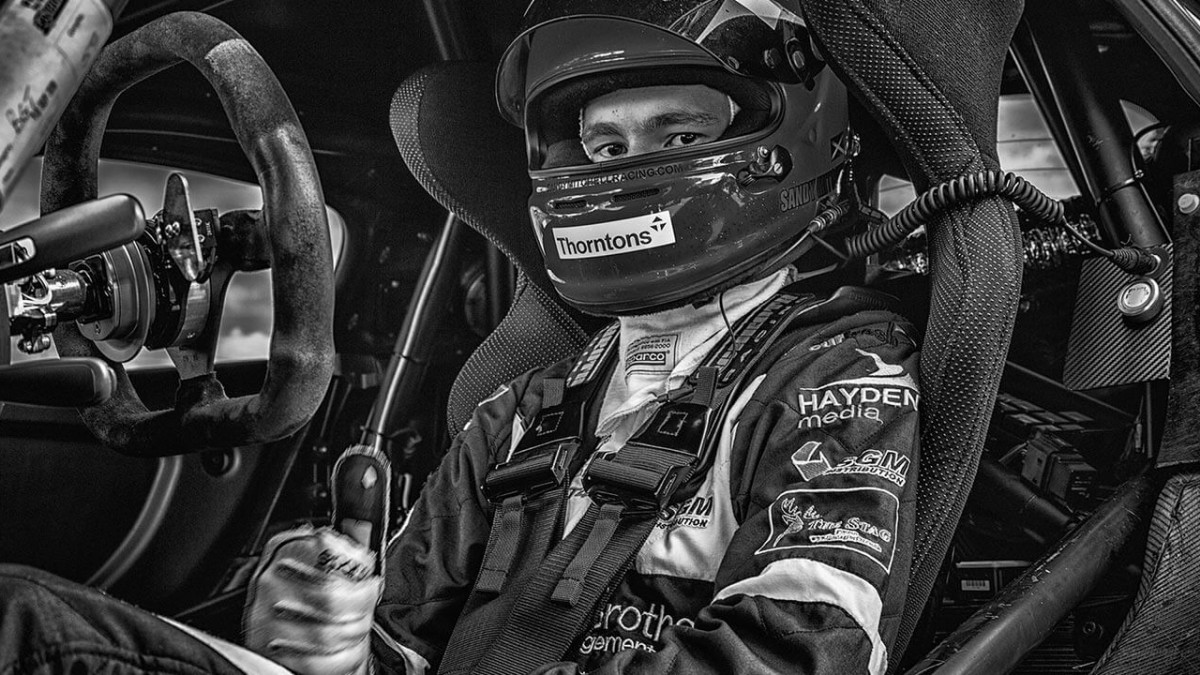 What were you doing at sixteen?
Imagining you'd scored a scorching last minute winner in the Bundesliga? Dreaming that you'd joined Jagger on stage and had them swooning in the aisles? Practicing a pout in front of the mirror that would absolutely without question put you on the front cover of Vogue?
Yes us too, or at least something like that.
Sandy Mitchell on the other hand has already been Scottish and British Kart Champion multiple times, been the youngest ever race winner in British GT history, won 3rd place in 2016 British GT4 Championship in his debut season and become a McLaren GT development driver for the new GT4 McLaren 570S.
At just sixteen.
The last driver to generate this much excitement was…
That record alone says something special is happening. It's too early to say what exactly, but the last British driver to generate this much excitement at such a young age (one Lewis Carl Davidson Hamilton, MBE) went on to become a three-time Formula One World Champion.
So rather than just watching Sandy Mitchell's career with interest, Christie felt it would be good to help it on its way. And sponsor his British GT bid.
Just like F1
The British GT is the UK's leading race championship, and Sandy will be driving a GT4 McLaren 570S for the Black Bull Garage 59 team. Gridded up and alongside Sandy will be some pretty exotic machinery – Ferraris, Lamborghinis, Aston Martins, Porsches, Mercedes, Audis, BMWs, Nissans and Bentleys – and, as in F1, there are pit stops, tyre changes and 150mph plus speeds – everything needed to make each race a strategic puzzle and every result unpredictably exciting.
Sandy's GT4 McLaren 570S was the only one raced during 2016 – with Sandy helping develop the car under race conditions. His track-only, McLaren 570S GT4 has the same race-developed carbon fibre MonoCell II chassis as the other models in their Sports Series and it's powered by a V8, 3799cc TwinTurbo McLaren M838TE. Top speed is confidential, but it's a McLaren and McLaren don't do slow.
The opportunity to join us on race day
As the championship moves around the county we hope there will be plenty of opportunity for Christie partners to join us as we urge Sandy on and watch his progress from the paddock. As the championship unfolds we'll be following Sandy's GT progress and we hope you do too, both as our guests on race-days and in regular Christie communications.
Who knows, in years to come, when Sandy Mitchell takes the chequered flag at the 24 Hrs of Le Mans you can say "I met him when he was just starting out" only this time it won't be fantasy.