Projection Mapping BMW's Plug-In Hybrids
Watch as four BMWs, nine Christies, PaintScaping and projection mapping put a dent in reality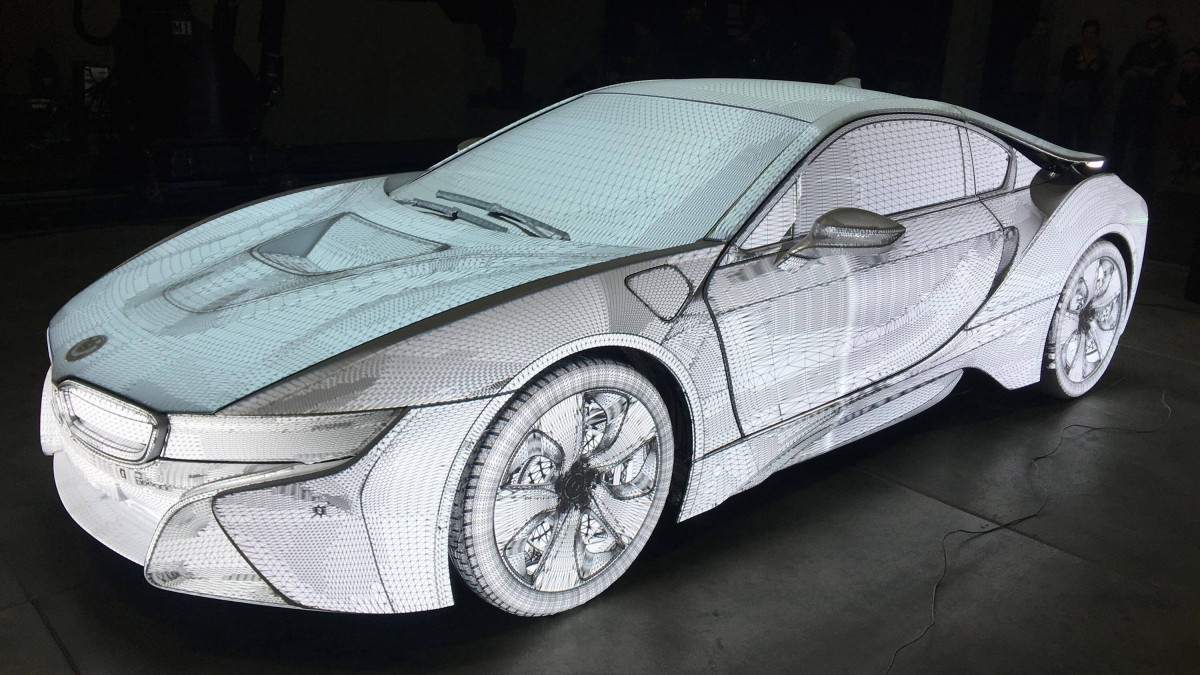 You have to admire BMW, and not just for their cars. Their marketing operation is second to none, they know their drivers (and what drives them), they know how to get the BMW brand across and they certainly know how to build a product line that takes care of their customers throughout their driving lives. Giving each one a seamless route from their first 1 Series to the car of their dreams. So when it comes to promotion let's just say BMW know what they want and exactly how to talk to their audience.
The New BMW Plug-In Hybrid
Things were no different when production company Logan & Sons needed a complex nine-projector 3D mapping projection for a BMW Plug-In Hybrid commercial. The tough part was that the Advertising Agency – Germany's ServicePlan Group – had dreamed up an idea where the projection needed to look as though it was inside the car even though the projectors were mounted outside.
That alone was a tall order, but it would also all have to happen on set and be shot live. This was another of those jobs where projection mapping showed it had the edge over postproduction techniques, partly because of the effects that could be achieved but also because of the energy achieved when images are shot live rather than applied afterwards. BMW had seen projection mapping, wanted projection mapping, and so that's what BMW got. Luckily, Christie Partners PaintScaping, have huge experience. They'd worked on the Calvin Harris and Rihanna video "This is what you came for" using similar techniques and helped generate 1 billion views in the process.
Achieving the desired result took no less than seven 20K Christie HD projectors, two 4K 30k-lumen Christie Boxers and many hours painstaking modelling, visualization and head scratching. But was it worth it? It certainly was and you can see the results of all that effort here.
Changing Reality
The TV commercial's pay-off line was 'changing reality' and those nine Christie projectors certainly did that. It's unmistakably a BMW production, with all the BMW gloss, style and panache you'd expect, but the projection mapping brings an otherworldly feel that makes it stand out. Yes these are BMWs but they're unlike any other BMWs you've ever known.
Now at this point you'd no doubt expect us to draw a parallel between BMW's product line and Christie's own; and because we hate to disappoint our readers that's exactly what we're going to do. BMW have always championed technologies that they believe in – most notably rear-wheel drive. But the moment a new technology emerges – one that benefits their drivers like Hybrid does – they invest in it, refine it and make it their own.
Christie shares the same philosophy; we don't believe that every new technology has value just because it's new. It has value if it does the job it has to do better, offers clear advantages and allows our partners to create ever more impressive work.  So while you may not always find every attention-grabbing novelty in every piece of Christie kit you take on a job, you'll always find it has precisely the technology that does the job best.