Kraftwerk Living Technologies
How Kraftwerk Living Technologies made Chimelong Ocean Kingdom Park a World Record breaking day out.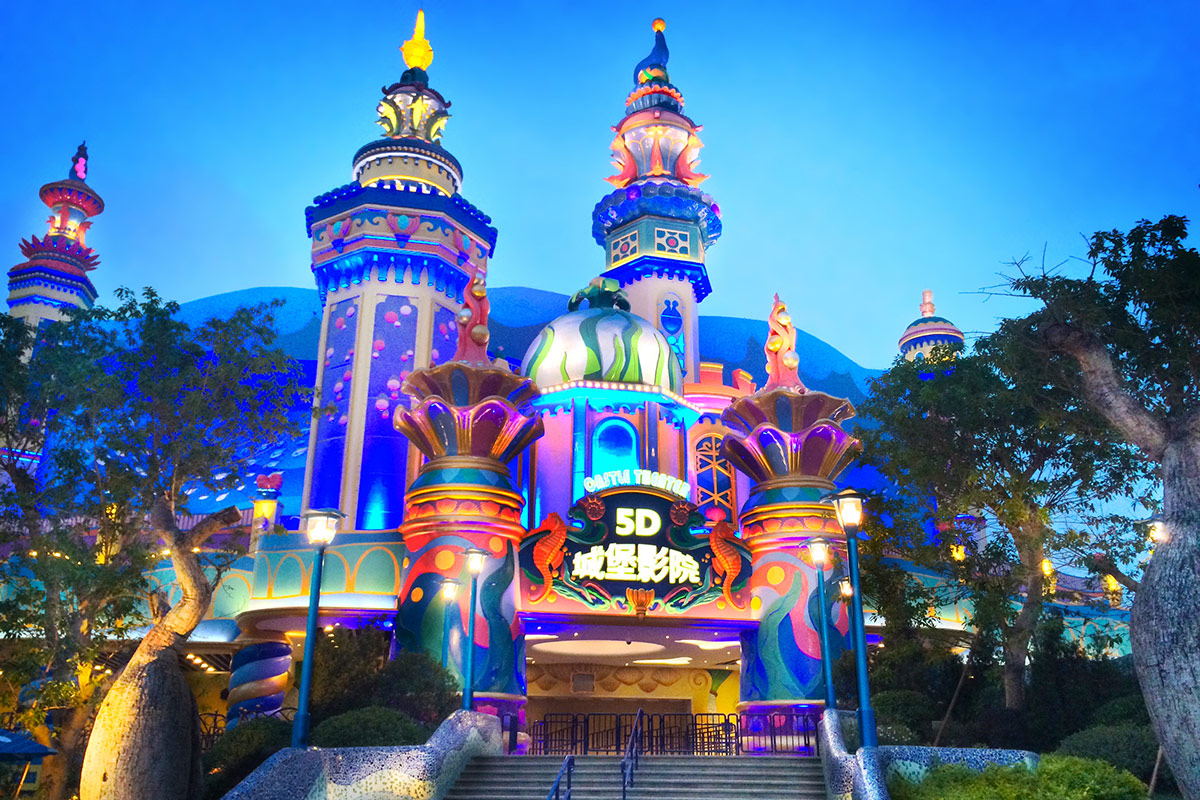 All hail the Penguin King in 5D
We have bad news. In the deep ocean, on a distant planet, a Magma Monster has escaped. The ice-cap homes of the bears and penguins are melting, Teenage Tiger Heroes are needed, Whale Shark Pixies must be sent – The Penguin King has spoken… 
Welcome to the world of Chinese children's fables, and the 5D Castle Theatre at Chimelong Ocean Kingdom Park. Here, system integrators Kraftwerk Living Technologies have made anything possible, Whale Shark Pixies, multi-coloured animatronic parrot messengers and giant 3d screens included.
Everything is on a grand scale; the screen alone is 1,500 square metres, the theatre seats 1,000 and is reckoned to be the largest 5D theatre in the world. The park contains the world's largest aquarium, the biggest hotel in Mainland China and one of the world's longest roller coasters. Yet it's the small details that bring the experience alive. When angry bees attack our tiger heroes it's the 3D movie and specially designed theatre seats gently tickling your neck that make you jump. This is 5D to the Nth degree.
Integrated and Astounding
Responsible for both show and content production, Austrian Design and build specialists and Christie partners, Kraftwerk Living Technologies spent sixteen months on the design alone. Working with Chimelong's own designers, Christie experts and Sha Xiaolan – chief lighting designer for the Beijing Olympics – Kraftwerk Living Technologies led the technical design, planning, supply, programming and commissioning for the entire venue. From the 3D screen and Christie projection system, through the audio and motion seats right down to the details of the water and compressed air systems.
Kraftwerk Living Technologies designed and built the show control systems and the lighting and special effects, worked closely with LA based 3D animation and visual effects house Prana Studios and with principle creative director Rick Rothschild of Far Out! Creative Direction – then in nine intensive months integrated and implemented that carefully designed plan onsite.
From the very outset Kraftwerk Living Technologies' aim had been to make every element – every water spray, wind blast, scent and strobe light – and the 3d Movie – add up to a single unforgettable, immersive story-telling introduction to Ocean Kingdom – and it worked; for when the animatronic parrot that leads you into the park takes flight so does your imagination, it can't to anything but.
Reach and Flinch
5D experts such as Kraftwerk Living Technologies often talk in terms of 'reach' and 'flinch' – those times when everything combines to create an effect so immersive the audience reacts emotionally and involuntarily to the action. But to work at all, all those effects must work together, that's why at 5D Castle Theatre a combination of Christie supplied 4k resolution and high frame rate 3D images and special effects has audiences reaching, flinching, and laughing almost constantly. Once again though it's the subtleties not the scale that make the difference. The twelve Christie D4K3560 Projectors deliver nearly 22million pixels to the 1,500 square metre curved screen and that keeps even the finest 3D detail sharp and believable and holds the narrative together. That's important because special effects alone are not enough to create a fantasy world from scratch – especially when your audience, in the main, is easily distracted children.
Speed thrills
Speed has been an important part of amusement park fun ever since the first holidaymaker sped down the first Helter Skelter. And it's just as important to 3D for here too raw speed means thrills. Christie's TruLife electronics platform gives the D4K3560 projector 1.2 gigapixels a second performance – that's almost ten times the speed of an ordinary standard high-definition projector and means truly adrenaline-inducing 3D is possible – that the oohs and ahhs will be just as loud, just as long and just as genuine as on any white-knuckle ride. Audiences leave wanting more, and tell their friends why.
It's not surprising then that Kraftwerk Living Technologies won inAVation's 2016 international project award with Chimelong Ocean Kingdom Park, and that, in 2015, Guinness World Records recognised it as the largest stereoscopic 3D projection in the world. Enthusiastic audiences though simply recognise a great day out, one that starts in the Christie equipped theatre where the nuances of world-class, high-speed, 3D bring Kraftwerk Living Technologies' brilliantly realised show to life – and send a huge number of Chinese children home happy, tired and looking forward to their next adventure with the Penguin King.