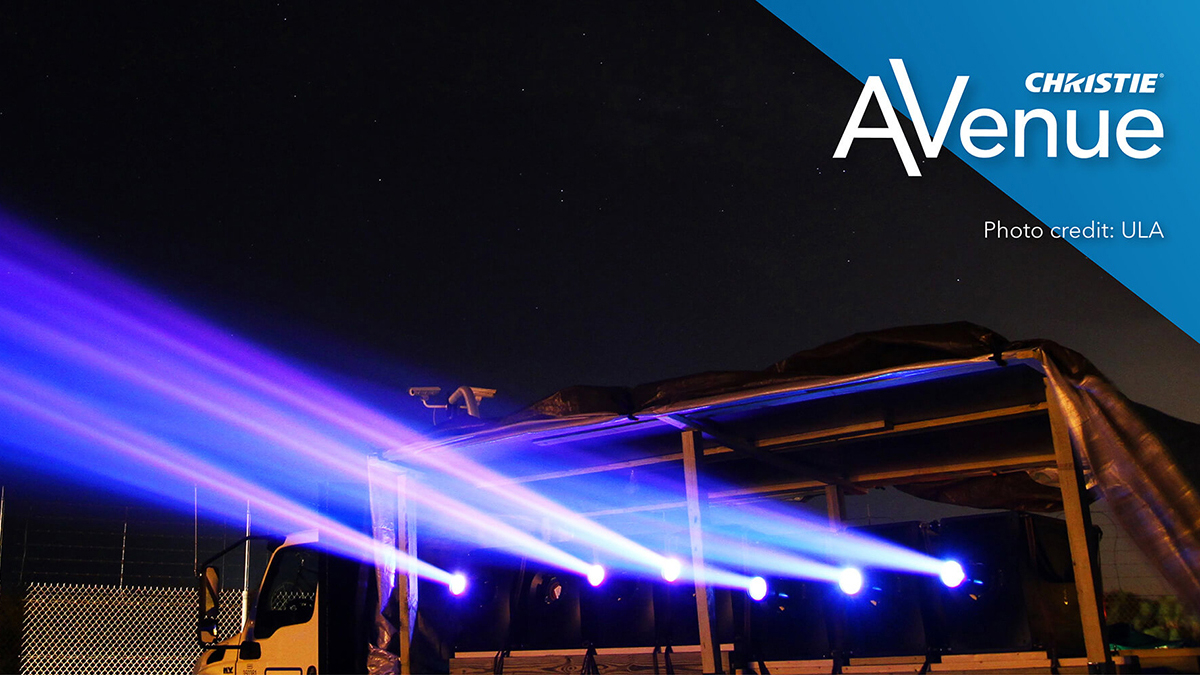 Before anyone asks the question, 'how did they do that?', someone needs to ask, 'what's it gonna cost?" Just how spectacular your outdoor spectacular will be is as much a matter of economics and careful planning as it is about technology. So, what are the major costs of creating a jaw-dropping show, and what's a smart strategy for keeping your budget under control? Let's take a look!
Choosing the right projector
The first thing to note is that renting a projector, while hardly loose change, isn't the defining part of your budget. What's more, when you compare it to the cost of purchasing a high-end projector, a rental can save you on capital costs, but only if economically it makes sense to rent rather than to buy. For short-term events, going the rental route lets you choose the right projector for the show every time.
Of course, since high-brightness is so essential to creating a great show, projection is the last thing you want to trim from your budget. While you can create an amazing show using several 20,000 lumen projectors, such as at the Nowon Light Garden you can create something truly spectacular when you start using 40,000 to 50,000 lumens like lighting up the façade of the Milan Mela in Kolkata.
All of these projector decisions stem from your site survey. That's your chance to get a good understanding of what the project entails so you can get a reasonable estimate of how many projectors you need and the brightness you require to make the show happen.
Keeping labor costs down
An experienced producer knows that labor is a larger but worthwhile investment that can take up a considerable part of your budget. But they also know that ensuring your show set-up runs smoothly can save many expensive hours. Of course, the crew will thank you if their work is easier. That means designing your set-up for ease of rigging and operation under show conditions, as well as considering if your gear and technology are light enough to be lifted into place manually and compact enough to maneuver through tight doorways and narrow staircases. Planning for those things when you're projecting across the street from a seventh-floor window really matters!
A focus on the budget
The right projection software solutions help make alignment, blending, and focusing much easier and less time-consuming process these days, when things get knocked and fall out of alignment, especially under show conditions. In the past, even the best teams needed 8 to 10 hours to manually focus/refocus and align/realign everything. But the latest software solutions mean your crew can get things back on track in under 15 minutes!
Using software solutions and production and media playback systems you can harness the power of multiple projectors to create bright, massive, seamless, incredibly high-resolution displays with repeated accuracy and speed. With the click of a mouse, camera-based tools let you automatically align, stack, and blend multi-projector shows. In fact, there are tools now to constantly monitor misalignment and automatically calibrate the image in real-time. For complex shows, Christie Conductor monitors and controls up to 256 3DLP® projectors on the same network from a laptop. That's all time – and crew costs – saved.
Getting it there
Anyone who's recently shipped anything knows how expensive transportation is these days. It's one of those costs that's easily overlooked, but deciding on compact, lightweight equipment early in the planning stages can prevent unexpectedly high shipping costs down the road ― and lowers your carbon footprint!
Power
Depending on the part of the world and the kind of show power, requirements vary considerably – but it's always best to be able to plug straight in. Generators aren't cheap, and nor is the fuel that powers them. Thankfully the need for 3-phase power is rare these days and most modern projectors can run on a standard 110 or 240 volt supply. But it's always worth checking to ensure you have access to a solid and reliable power supply. and checking who is getting the bill.
A little planning goes a long way
Show budgets are complex and notoriously hard to stick to. Budget-creep rarely happens with the big ticket items, but all the little things add up and can cause headaches ― and expensive bills! With a bit of planning and knowledge, you can stay on top of your budget as you take the show from an idea to reality. And at the end of the day, when the audience is amazed and asks, "how did they do that?" you'll know that the answer is careful planning!