RGB's growing appeal blooms at the BFI London Film Festival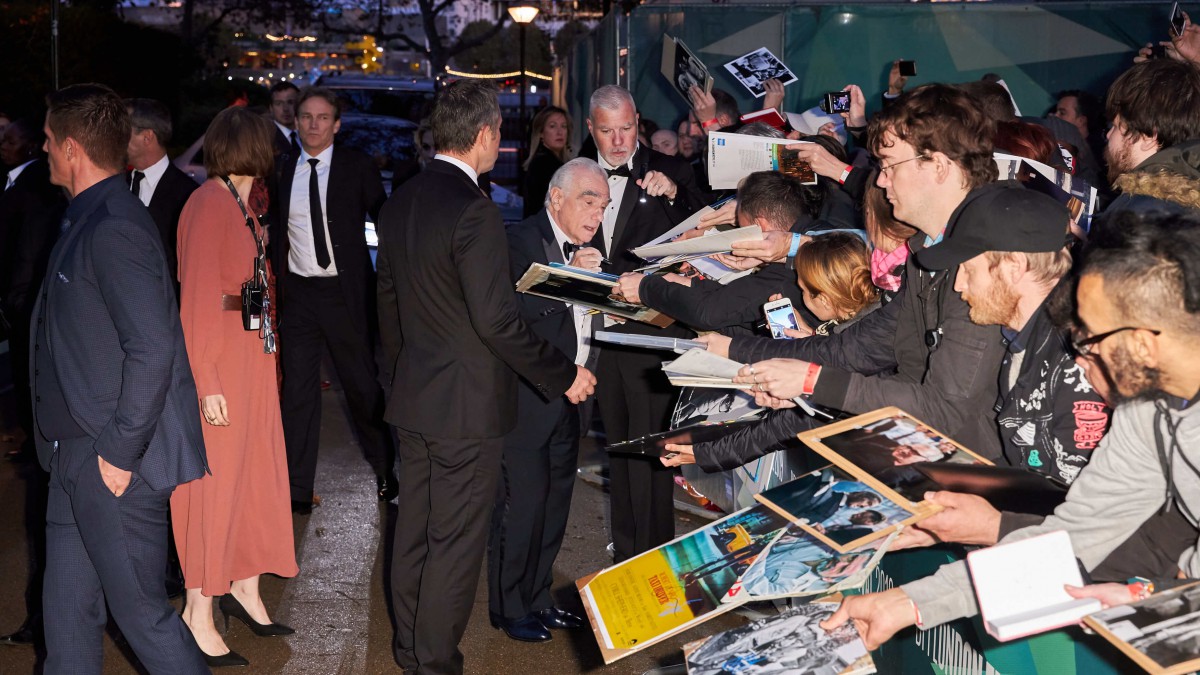 London is full of secret flower gardens. Unannounced polychromatic patches that pop up among the gray buildings and packed pavements just when you least expect them to. There's Postman's Park, Soho Square, and – tucked between the Thames and Charing Cross station – Victoria Embankment Gardens.
On any spring day, its formal flowerbeds make it one of the capital's most colorful spots, a natural display of blues and greens and reds to soothe the commuting soul.
Embankment Garden Cinema
But when cold October comes, it changes. A temporary, but very much state-of-the-art, cinema takes root where the tulips and the daffodils and the box-hedges grow. This is Embankment Garden Cinema, the BFI London Film Festival's flagship venue – the site, this year, of the international premiere of Scorsese's The Irishman – and behind the scenes, something new was flourishing.
Christie's support for the London Film Festival has always been enthusiastic, so this year, as before, we installed two projection systems side by side at Embankment Garden Cinema. One CP4330-RGB pure laser projector and one Xenon illuminated.
And we invited directors and studio reps to watch their film on both. They, not Christie, nor the BFI, would decide.
Very high expectations
BFI Head of Technical Services. Dominic Simmons was unequivocal, "I believe RGB laser is the future of projection," he said. "We definitely saw image quality improved, there was a vibrancy to the colors and depth as well as clearly reduced speckle. You have a lot of people with very high expectations turning up – guest supervisors, technicians, sometimes the director. I don't think a single one was disappointed with what they saw on screen. It did look really good."
The Embankment Gardens Cinema experiment shows that RGB projection has come of age. This is a temporary cinema – and it worked perfectly at that level. But it's also the centerpiece of one of global cinema's showcase events, and it worked on that level too.
They're all loving laser
It demonstrates that pure RGB laser projection is no longer some exotic rarity but, particularly in its all-in-one form, a genuine candidate for Boutique, Premium Large Format, and indeed all cinemas – Dominic Simmons again. "We've had a lot of technical managers, and screening managers from various distributors coming here. And they're all loving laser. The RGB laser succeeds in bringing premium quality to mainstream audiences. I think it's brought laser quality projection within reach of a lot of venues and a lot of cinemas – and that can only be a good thing."
And he says not only are audiences blown away by the crisp images and vivid yet natural colors – they were surprised at the outstanding quality that 'just' a temporary cinema delivered.
Among the hidden lawns and colorful displays of London's lesser-known parks it seems cinema's power to amaze and enchant is in bloom again.