Boxer series. Because we all have two lists.
List A? Well that's the list of kit you'd like to use on a job, the stuff you trust and know won't let you down. Then there's the B-list, the budget conscious list, kit that's good but not perfect. As a professional you'll make it work and work well, but life's always easier and the show's always better when it's A-list all the way…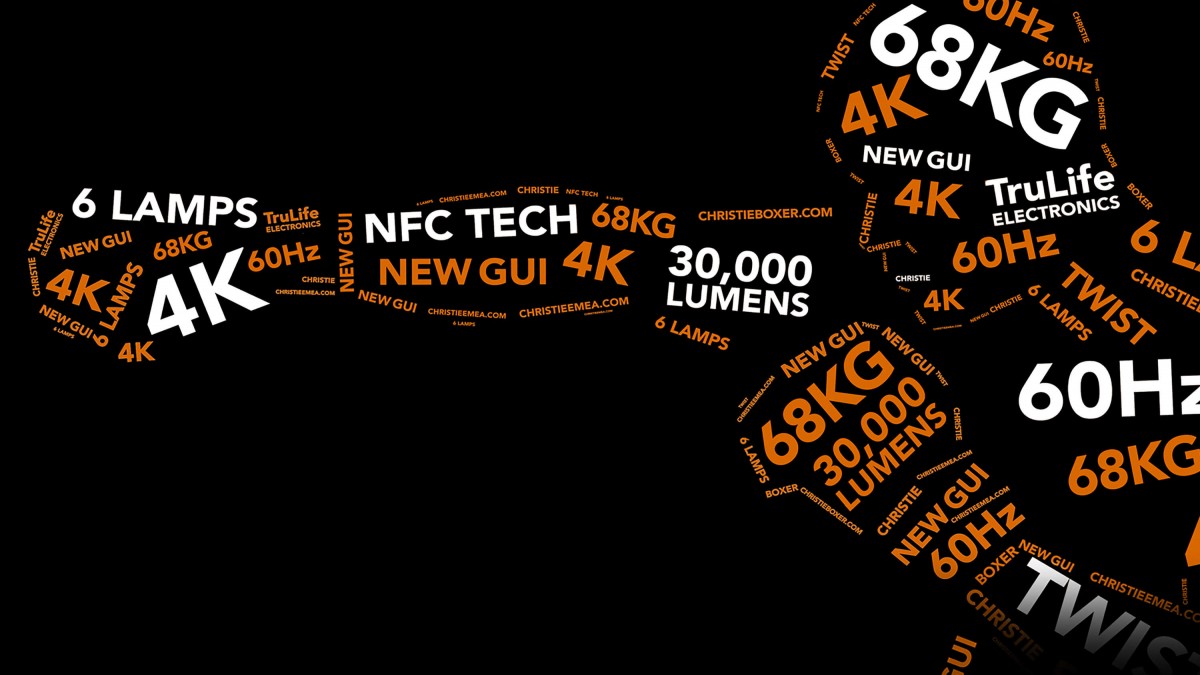 Christie Roadster and Roadie are definitely A-list – they wouldn't have won so many awards or such praise from Rental Staging Companies and Riggers if they weren't – but there are some jobs (you know the ones) when it can be tough to justify Christie purpose-built staging projectors on your equipment list.
Until now.
Now three new Boxers extend the A-list, bringing purpose-built projection to what were once B-list jobs – thanks to an innovative six-lamp design delivering 30,000 lumens and a host of other features including NFC lamp monitoring for fast fleet turnaround.
The Boxer 4K30 first set the stage with A-list levels of display and Christie TruLife™ image processing – delivering native 4K and upgradeable to true 120Hz display.
And now there's The Boxer 2K20, 2K25 and 2K30 – all still Boxers – just 2k not 4k.
So you get even more brightness options without that 4K workflow expense.
That means you can take a Boxer on virtually every 2k job – concerts, amusement parks, projection mapping, live theatre and conventions – and you can spec Boxer for permanent installations too – including museums, planetariums, higher education and houses of worship. Without investing in 4K media players.
The new Boxers have six mercury lamps housed in two, three-lamp, cartridges, built-in Christie Twist™ so images can be blended and warped from multiple projectors on to curved and irregular surfaces without external gizmos. Up to 30,000 Lumens and 1.2 Gpx/s processing means bright, sharp, show-stopping images every time.
Best of all though rigging is still a two-man lift not a forklift hassle – and you can upgrade to full 4K resolution just as soon as you want.
After all, the moment your B-list jobs can join the A-list your options get wider.
And life gets a whole lot easier.
Up to 2K resolution with 30,000 lumens
Omni-directional
Near Field Communications
3GSDI, DisplayPort, HDBaseT, optional DVI, optional HDMI, Optional DisplayPort 1.2 connectivity
120Hz upgrade available
Colour LCD preview panel
Lamp life of 1,500 hours to 70 per cent initial brightness
3DLP® image quality combined with Christie TruLife™ image processing
Same rigging frame, lenses, lamp modules and projector controls as the entire Boxer family

Now shipping with a three-year parts and labour warranty backed by Christie service and support.