Honda's new RC213V gets the Christie 360° projection treatment. It's the ride of our lives.
212bhp, full race pedigree and a 360 degree projection dome. Christie at the launch of Honda's new RC213V racing masterpiece.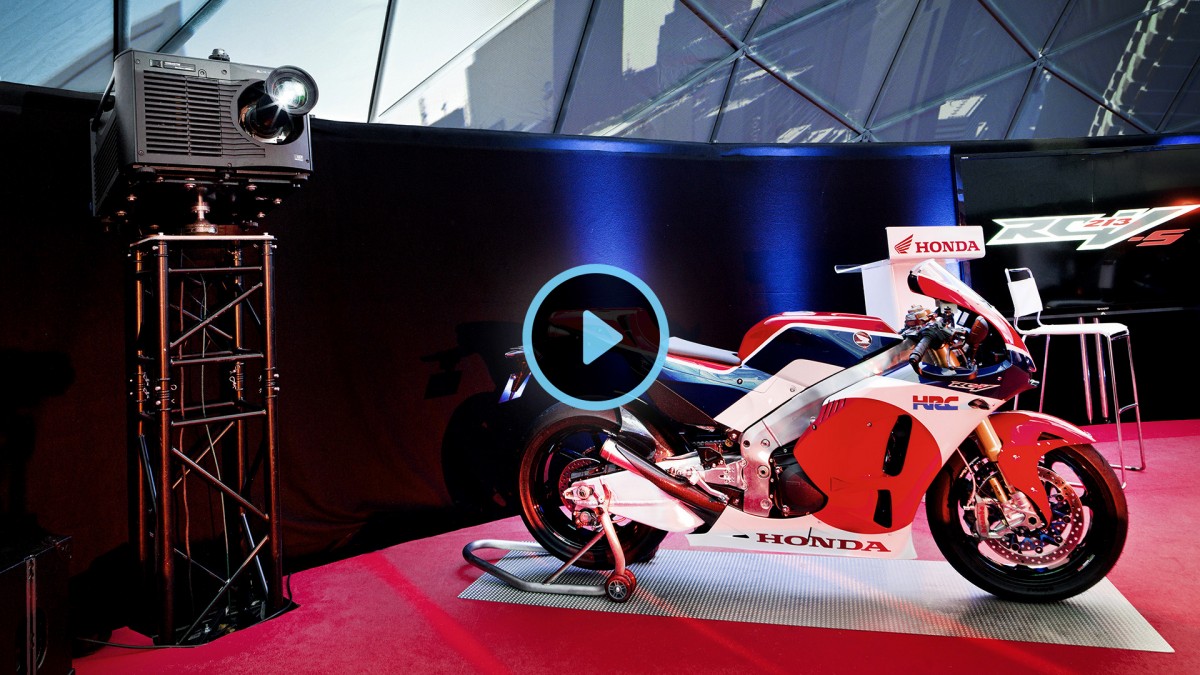 Forget F1 and Serie A, if you want to see fanatical, knowledgeable supporters go to a MotoGP meeting. Take a walk though the stands and the pit lanes and you'll hear as much talk about torsional rigidity as you will about Valentino Rossi's remarkable Valencia GP win. These people know and love motorbikes.
That means the launch of a new Honda motorcycle is news, and the launch of a new Honda based on their RC213V MotoGP bike means a racetrack full of smiles wider than a two-lap lead.
These are seriously quick bikes, and you need a clear road – and a lot of it – to experience anywhere near their 212bhp performance. You'd need some deep pockets in your motorcycle leathers too – the £140,000 RC213V-S is the most expensive road bike Honda has ever made, and they're only making one a week.
So getting a visor's eye view of a ride on one isn't easy – and it's why Honda asked Newmedia Technology Studio to find a way to give journalists a real feel for riding the bike – without putting them, or it, in danger. They conceived a spectacular eight metre high geodesic dome with six Christie Roadster HD20K-J projectors (3DLP technology, HD resolution, 18000 ANSI lumens) to show a specially created 360º video – creating a once-in-a-lifetime chance to feel just what it's like to push a performance motorbike to the limit.
The great thing about Christie projectors is that they integrate and interact to perfection in the work flow.
Diego De Anna, CEO at Newmedia, takes up the story; "Honda are a cutting-edge, hi-tech company and wanted an innovative concept to match. Choosing full dome projection meant our audiences were more than spectators – they really were out on those roads, riding that bike…"
All six projectors were mounted inside the dome, two metres high, on truss structures, five projecting onto the base of the dome with the sixth projecting on the dome itself using blending and warping to create a seamless image on a 300 square metre projection surface.
The show opened with a short animation created by New Zealand studio The Darkroom.  Running at 3K resolution and full dome format this put viewers firmly in the saddle of an RC213V-S – they could feel the visceral excitement of swooping down country lanes and opening the throttle wide. Then, when adrenaline levels had returned somewhere close to normal, three-time champion and works rider Marc Márquez gave an expert view of the bike and what makes it so special.
All projections were managed using a Delta Media Server by 7thSense and Medialon show master control system – cabled for Ethernet – as Javier Ruiz, Newmedia's Technology Director explained "The great thing about Christie projectors is that they integrate and interact to perfection in the work flow."
"In addition, the brightness and contrast of the projectors is outstanding, as far as the lumens-weight ratio is concerned Christie is probably the only manufacturer with a product that guarantees this much brightness in a lightweight package. That tightly sealed hull also means minimum noise – essential in enclosed set-up like this."
Getting as enthusiastic about lenses as MotoGP fans do about a well-executed wheelie, Diego de Anna, Newmedia's CEO stressed the importance of world-class optics. "For this kind of immersive event the quality of lens is crucial because we must focus both on the centre of a curved surface and on the edges. That means not one but five blends – and that's not easy to achieve. With Christie's 1.2 lens you can focus on the centre as well as on the sides and get perfect polar correction."
But the final word s probably best left to Honda's Carlo Fiorani…
"The truth is that the projections were incredible and I was highly impressed with the quality and the immersion achieved. I felt I was riding the bike…"
There's no higher praise than that.