"The Force Awakens": Christie at the L.A. Star Wars Premiere
Disney and Christie have been sharing ideas for several years now - here's how we made the red carpet sparkle.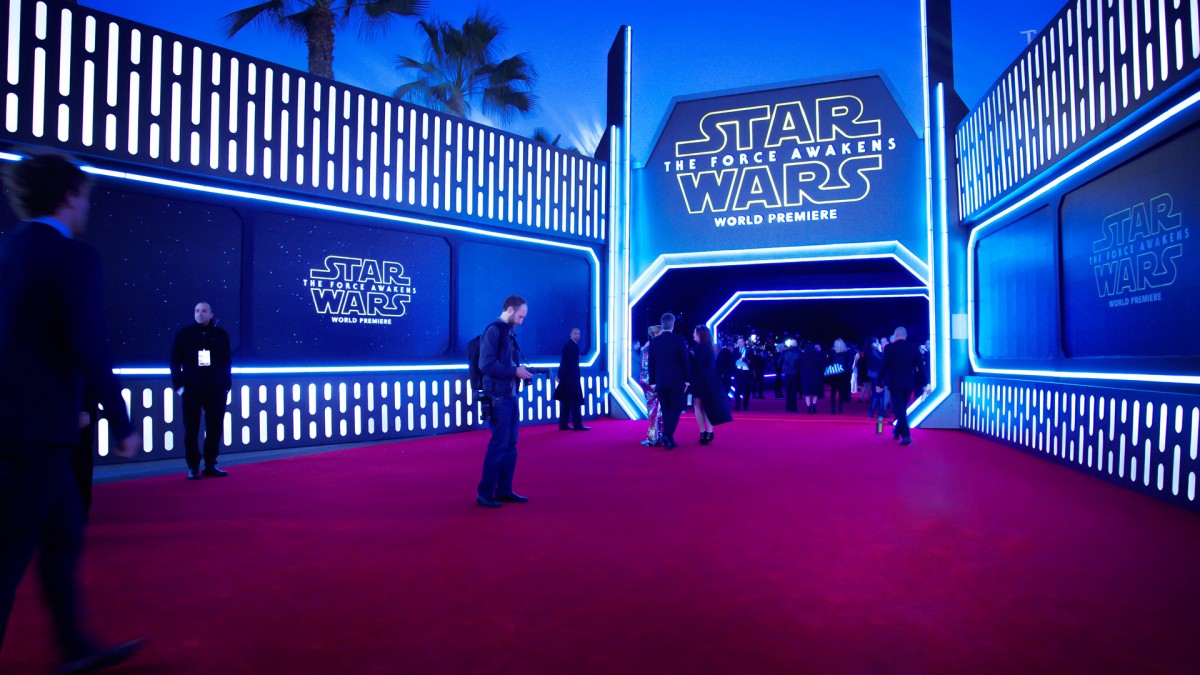 It grossed one billion dollars in just 12 days, made $529 million worldwide in the first weekend, was Disney's biggest international opening at $281 million – the trailer alone had 130 million Internet views by October 2015.
The World Premier in Los Angeles was something special too – the red carpet displays seen the world over and packed with Star Was stars were a joint venture between Disney and Christie, part of a long-standing creative relationship.
Christie provided technical consultation at every stage – from concept and creation through to onsite setup and delivery. Indeed much of the equipment was configured and pre-staged days before at Christie's Cypress, California headquarters. Michael Kern, Disney's VP, Special Events Production and Technical Services, takes up the story.
"Disney and Christie have been sharing projection and display ideas and innovations for several years now, providing audiences with unparalleled experiences – so there was no question who we would enlist to provide spectacular red carpet displays.
We'd fallen in love with Christie MicroTiles – their high resolution, shallow depth, virtually seamless canvas and true-to-life image quality – so we were eager to include them in the red carpet backdrop for one of our biggest premieres."
A prime example of how Christie's involvement goes much further than equipment provision alone, it allowed Disney to stage their event to the legendary standards they require – it's part of that long-established relationship where Christie provide digital cinema technologies and professional services for production, post-production, screening rooms and premieres.
And once inside the cinema – LA's legendary El Capitan – Christie's unique position of working with giants such as Disney could be seen and heard again. Work with Dolby co-developing new proprietary HDR and wider colour gamut technology meant customised, high-frame-rate (HFR) capable Christie 4K laser projection heads delivered the unparalleled visual excellence that marks out Dolby Vision.
So a glittering affair, conducted in front of the world's media, and one that went without a hitch, The Imperial Stormtroopers didn't vaporise anyone, R2D2 rolled up the ramps with ease, Jar Jar Binks was otherwise engaged, and the equipment, of course, worked perfectly.
And it shows that even in front of the most knowledgeable of knowledgeable audiences, Christie's involvement always brings something special to the party. And what a party.