Rock'n'Roll renegades and a rental staging revolution; how rigging came of age.
You'd see them at every show build-up and you could tell them by the way they walked. A John Wayne swagger from wearing a mountaineering sit-harness all of the day and most of the night, a six-shooter clank too - from chains of climbers' karabiners, the tools of their trade. Who were these show-time cowboys? They were the riggers, and for a long time a law unto themselves.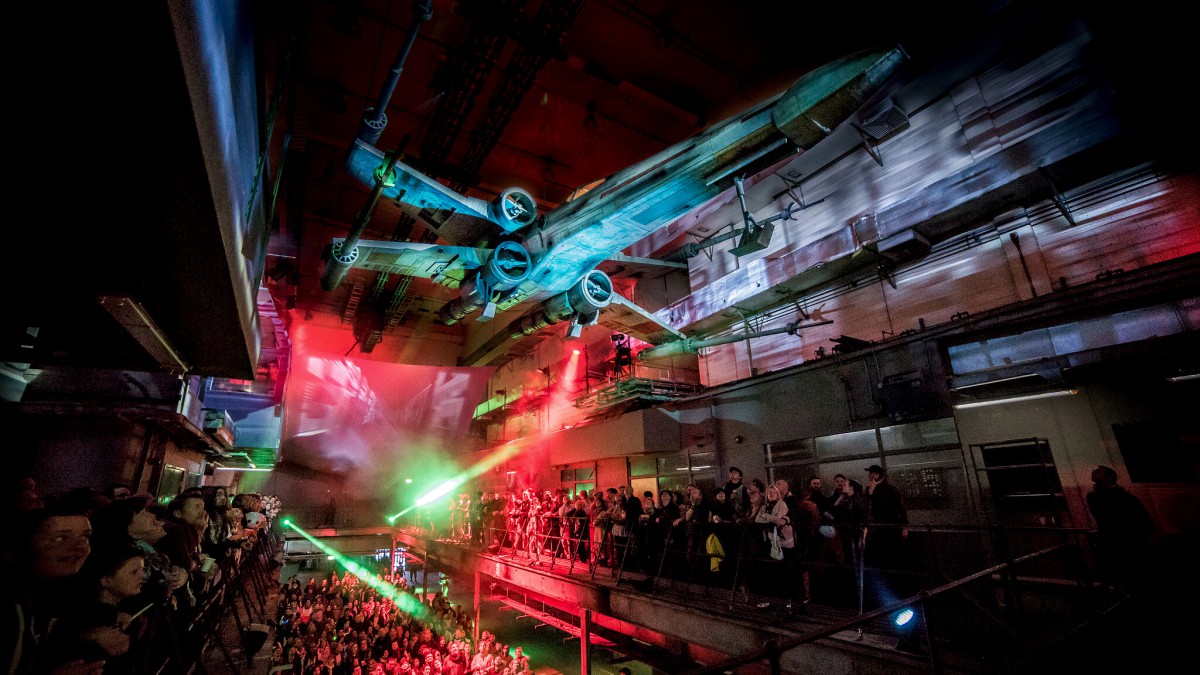 The only way is up
The art of rigging (it was then far more art than science) truly started in the rock concerts of the 1970's when, largely unconcerned by the niceties of health and safety and with only a passing familiarity with the laws of physics, sound technicians and lighting riggers decided the only way was up.
Borrowing climbing techniques, they started to 'fly' ever larger and heavier equipment above the heads of audiences and performers. They built speaker arrays of immense power on scaffolding towers of frightening fragility; they crawled through long forgotten roof spaces in ageing venues to dangle from abseil lines and focus lamps. They worked all night and took unbelievable risks to create unforgettable shows.
Then they grew up. And so did their industry.
In at the start
Robin Elias is now Technical Director at The Unusual Rigging Company, but he was once one of those freelance guns for hire, just as likely to be found helping out envious corporate suits at conferences as he would mingling with roadies at Rolling Stones, Genesis and Bob Dylan gigs. Robin was there at the beginning – and he's still there now that his industry has become an indispensible part of Rental Staging, and much else besides.
A mature profession
Though it's possible to detect nostalgia in in his voice when he talks of his younger freewheeling days, there's no mistaking his pride in what he and his fellow riggers have achieved. The skills and techniques they once pioneered are now in demand the world over; they are used in museums, musical theatre, even in the considered and risk-averse world of civil engineering. The cowboys have gone mainstream.
It was riggers who kept a major railway hub operating during renovation by hanging huge work platforms from the ceiling and winching them safely away when the public were there, riggers who made an X-Wing fighter fly through a disused warehouse for Secret Cinema's The Empire Strikes Back, riggers who put thirty-two performers on the London Eye – and kept it turning.
Now a voice worth listening to
Professional rigging qualifications and trainee rigger schemes championed by membership body PLASA are just two indications of how this has grown into a mature and well-respected industry whose opinions matter. And why now, when Christie designs award-winning, rental-staging projectors like the Boxer series, the needs of riggers count as highly as any optical or IT considerations.
That's why the Boxer series is omnidirectional and lighter than any other high performance professional projector on the market. Because those qualities really matter when your job is to rig it safely, upside down, to a deadline, ten meters above the ground at three in the morning while climbing a rope.
The glint in every rigger's eye
Talk to Robin Elias and you soon understand how quickly the business of rigging has matured – but has it mellowed?  Probably not, there's still that same desire to reach a little higher – to shock a little – to be audacious. Their safety and engineering skills may be better developed, and better-designed technology may make their lives easier in a million different ways, but in the eye of every rigger there's still an outlaw's glint.