We are gathered here together. Paul Alty's Black Hole — End of Time.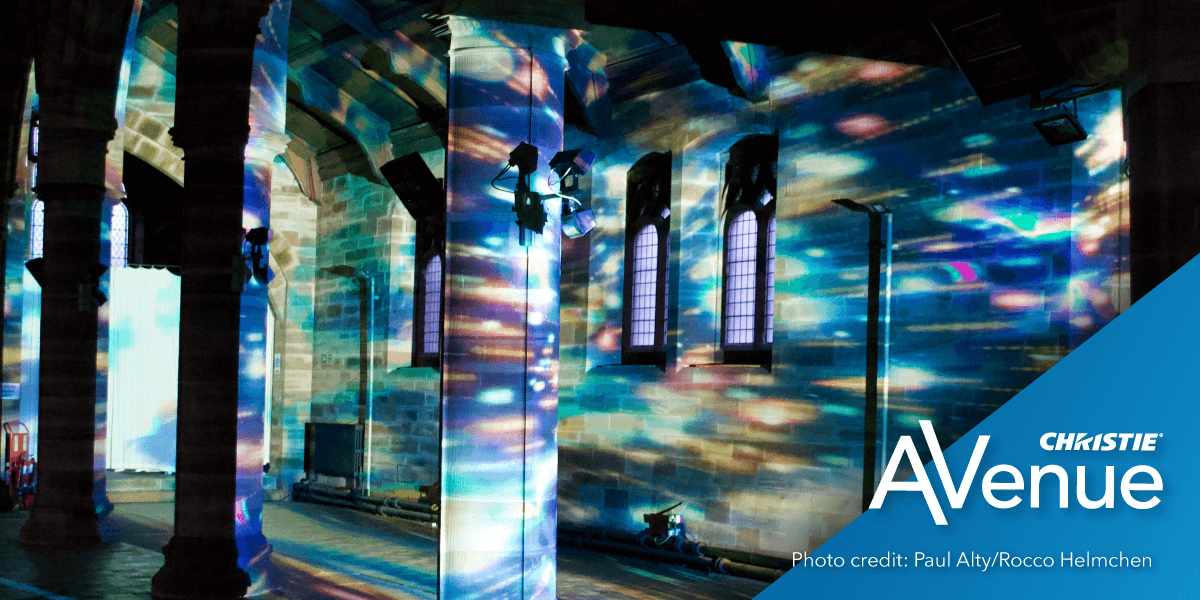 Churches have always been gathering places. That's why congregations are called congregations. But what happens when a church is decommissioned? Must they lose their community role?
Old Christ Church in Liverpool, England, hasn't. Famous among locals as "the Sailor's Cathedral" because its tower was the first Liverpool landmark that returning seafarers saw, its religious role ended back in 1982. But the community wasn't prepared to let the building go unused.
Extraordinary
Thanks to volunteers and The Friends of Old Christ Church, it's still a gathering place. One week you might see a craft workshop, another an art exhibition, or a celebration of Liverpool's maritime past by the World Ship Society. And if you're really lucky, you get to see one of Paul Alty's extraordinary immersive performances.
Light shows in churches are nothing new. There's hardly a religious building of any significance that has yet to see a laser's light. But the incredible, immersive experiences Paul creates are different — right from the very start. A lighting designer by trade and a musician by calling, Paul is driven by his own creative spark. His work is home-grown, and it's all the better for it.
The story of a guy called Jim
Black Hole — End of Time was born in Paul's imagination and his home studio. The story, he says, "Is the story of a guy called Jim, who tinkers with stuff and, in one little experiment, ends up creating a black hole behind his grandfather clock. And the black hole 'eats' Jim's time." Not your run-of-the-mill projection-mapped historical tableau then.
To get from an idea to an event, Paul needed a venue, so he approached The Friends of Old Christ Church. Paul explains, "We initially rented the venue for a trial run, just to see if the thing worked, but as soon as they saw the show, they offered me the church for a donation from the ticket proceeds — basically for free."
Their faith was not misplaced. While Paul was still de-rigging from the first performance, members of the audience were already asking when he'd be back. Even before word of mouth and social media had done their stuff, Black Hole — End of Time was selling out a second show, with more to follow.
Bigger ambitions
This time though, Paul had bigger ambitions. "I've a friend in Germany, Rocco Helmchen, who designs content for planetariums and full-dome shows who agreed to provide extra content for the second show. So, we ended up with several Christie projectors and his content down the aisles, on the pillars, and high into the gothic ceiling."
And all this from an idea in a home studio during lockdown. There was no corporate sponsor, no vast production crew, no slick marketing operation. Just Paul, his friends and family, and a church determined to remain a gathering place for its community and beyond.