Ambaji Temple. Something for everyone, and lumens too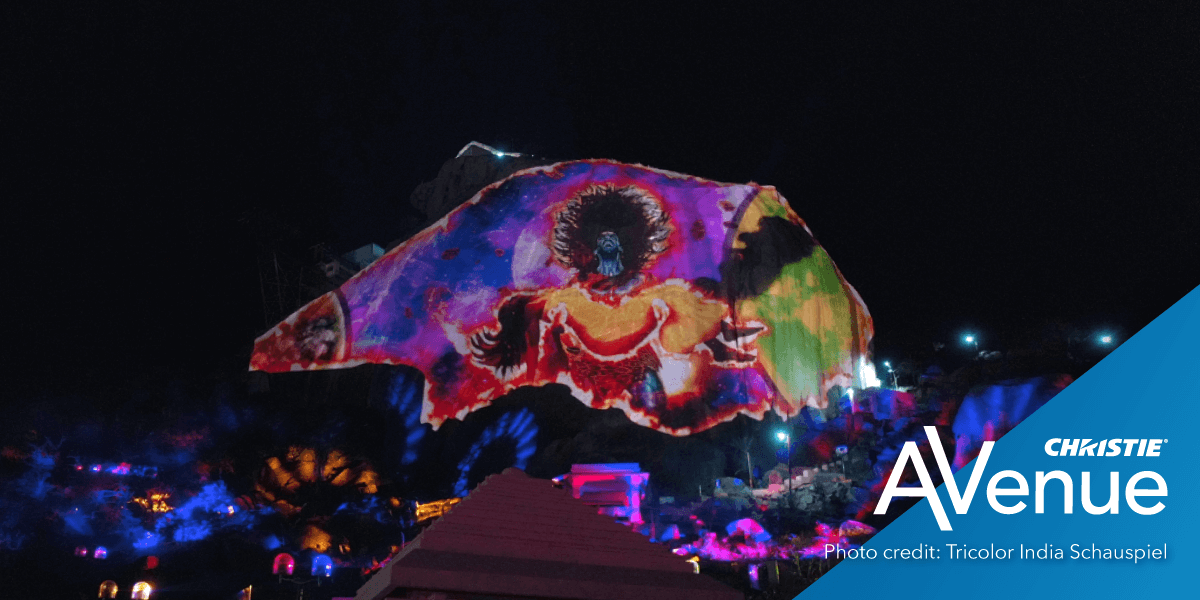 People may have always gathered here, in this place in the Aravalli Range in Gujarat, northwestern India. Since the pre-Vedic period (c.1500 BCE), the small town of Ambaji has been a place of pilgrimage, celebration, and commerce. There's a temple on Ambaji's Gabbar Hill where — legend says — the heart of the Goddess Sati fell after the Tandav dance of Shiva. As a gathering place, it's both sacred and social and very, very old.
So, while AV system integrator Tricolor India Schauspiel's new installation there may use 21st-century technology such as Christie® D4K40-RGB projectors, it's simply following a tradition as old as Ambaji.
As a place of marvels, it now has more for people to marvel at — and more to celebrate, too.
A three-day Mela
Not that Ambaji is ever short of celebrations. The whole town lights up when the nation celebrates Diwali, and on every Purnima, or full moon day, the town fills with devotees. But it's September that's truly special. That's the month of Ambaji Bhadra Purinima, when it feels like the entire countryside gathers in Ambaji for a three-day Mela — a party just to celebrate being alive.
And now, this ancient place of marvels and celebrations is the first Indian example of 3D projection mapping on a significant landscape feature. Onto Gabbar Hill, the site of Ambaji Temple itself. Himanshu Sabharwal, creative director of Tricolor India Schauspiel, takes up the story. "We had to achieve a projection coverage of 265 meters wide and 68 meters high (869 x 223 feet) on Gabbar Hill. And D4K40-RGB pure laser projectors provided us with the vibrant and lifelike images we needed. The quality of those images was paramount because the audiences include tourists who have come to marvel at Ambaji, and they won't know the story of the place in detail."
And, of course, that's what projection mapping does best. It embeds stories in the very place they were created and brings them to life in their own cultural surroundings, often among people who keep those traditions alive.
A spectacle to write home about
For casual visitors seeking insight into another culture, stories are invaluable. But we shouldn't overlook their role in reinforcing any civilization's sense of self-worth. At places like Ambaji, stories help both tourists and residents understand one another a little more.
Like everyone else in the AV industry, we love all the multi-lumen, high-resolution spectaculars. But when they do what they do at Ambaji, we love them just that little bit more.