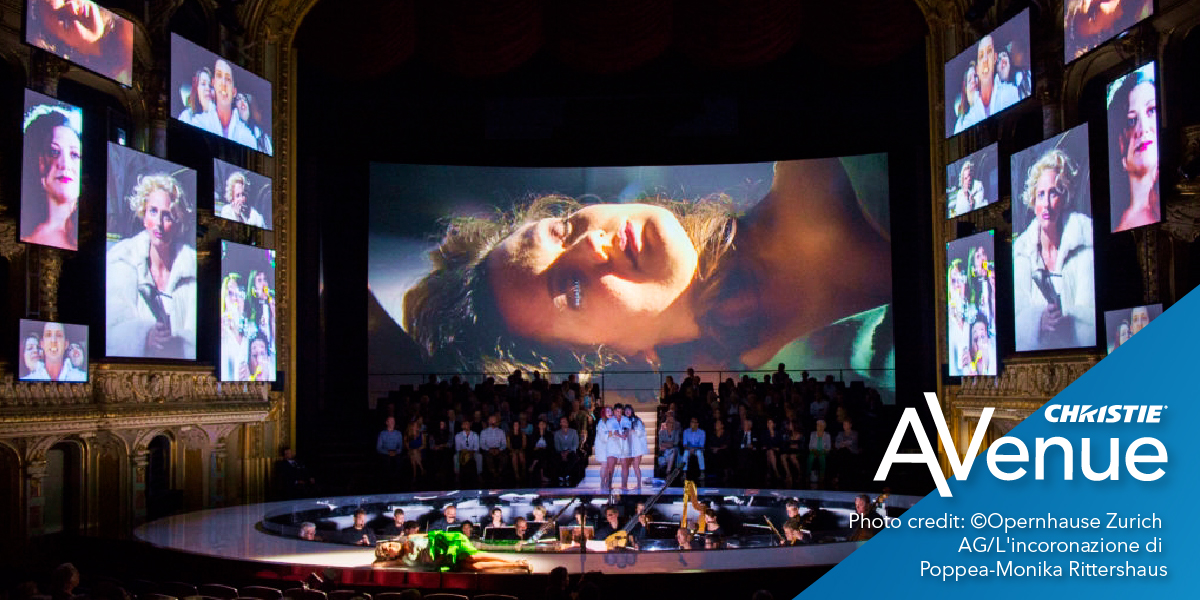 Opera has never been afraid to go big. Big voices, big egos, and big theatrical sets. Even though many opera houses are unashamed demonstrations of civic pride — Sydney and Vienna, anyone? —they never seem quite big enough to contain opera's grand ambitions. Those four walls are just too small.
So, opera increasingly turns to projection as a way of breaking the constraints of a conventional stage and proscenium arch, working on theatre's proven maxim, 'If you can't make it bigger, make it look bigger." And do they ever.
A diva's debut
The Zurich Opera House is one of those ornate buildings dressed in high culture, yet beneath its finery, it's a quiet and successful innovator. It was the first opera house in Europe to use electric light, and it entered the digital projection age with the enthusiasm of a diva's debut. At a production of Monteverdi's L'incoronazione di Poppea (The Coronation of Poppaea), this 1643 opera met the 21st century when Christie Pandoras Box® and Widget Designer fed 4K content natively to 14 screens using Christie projectors around the auditorium. Transmitting data over 10G Ethernet from Pandoras Box servers, Christie Terra® supplied artifact-free content for video mapping, stage projections, and the director's preview monitors.
And while opera houses worldwide use tech to free themselves from the stage's rectangle, opera has discovered it doesn't always need a dedicated venue. The Teatro Mariano Matamoros in Morelia, Michoacán, Mexico, is a UNESCO World Heritage Site and now also a multipurpose venue with the largest removable screen in Latin America. With a 28,000-lumen, 4K resolution, Christie RGB pure laser projector waiting in the wings, it can stage operas with the widest horizons. Significantly, that allows opera to reach wider audiences. It's an art form that some regard as elitist and hard to understand—which is unfair. Opera, done well, especially at scale, offers some of the most instantly accessible performances around. Does it really matter if you can't follow the plot or the lyrics when the sound and the spectacle sweep you up? Understanding can come later; it's not what makes opera so magnificent.
Grand ambitions
Opera has always loved an immersive experience and always had ambitions beyond a simple stage. Maybe projection is the next act in its search for the ultimate grand finale. It has illuminated Sydney Opera House's iconic shells and the Berlin Opera's architecture and brought Carmen to the largest lake stage in the world, Bregenz Seebühne on Lake Constance in Austria. In some ways, opera and projection are ideal partners: both can be as imposing as a villain's Basso Profundo or as subtle as a Soprano's Aria, and both are larger than life in worlds without barriers.