How Belinda McCabe found the best job in the world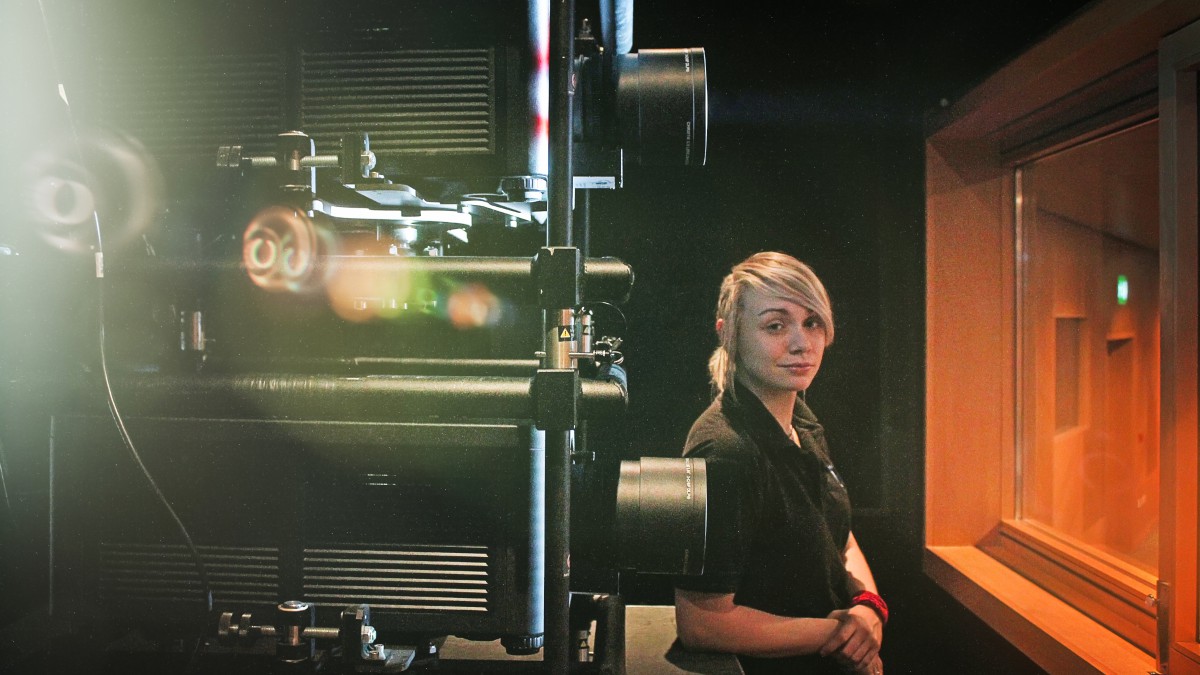 On the final step to the third landing on the tight staircase that led to the attic of the old Georgian building Belinda McCabe knew four things. That she was tired, it was late, her muscles ached, and that AV was the best job in the world.
No matter that once this projector was rigged for a show celebrating Sligo as European Volunteering Capital, she'd be back down every stair to do it all again; this remained definitely, undoubtedly, the best job in the world.
A contrary business
And that's the contrary thing about this business, certainly the events side. The hours are long and rarely convenient, the deadlines are unkind and the work is hard, but there's nothing else like it. Do it once and it's hard not to want to do it again.
Like many in the industry, Belinda's route into AV wasn't exactly planned – trained in Fine Art Media at Dublin's National College of Art and Design, but not keen a life spent 'sketching shoes', she dreamed of becoming an art teacher – until a fortuitous encounter with 'a man with a small Audio Visual Company' introduced her to a business that could offer a young Irishwoman with artistic interests more fun than sketching could.
Ion Solutions
Which is why Belinda is now a familiar face on the Irish AV scene, known for her roles at Ion Solutions and HubSpot. Nevertheless, she knows this was once a male-dominated job. 'I get the occasional odd look in the bar after a show, but that's probably more to do with wearing Snicker Trousers and not turning off my head torch. Truth is that while the job takes physical fitness, brute force is the last thing you need. Keeping a cool head under tight deadlines and set-ups always wins.'
But better design means kit is getting lighter too, those 4K30 Boxers so carefully manoeuvred into position at Sligo are a two-person lift – so even with the addition of a rigging cage it was clever teamwork not masculine muscle that got them into place.
New blood in the AV business
Perhaps it's because ours is an industry naturally welcoming of good ideas that talented women and the work they do are most-times accepted, but there is still some truth in the perception that if you're male, you have a head start. The masculine 'I'm a Roadie-for-a-band' way many people enter the business may have something to do with that – although that's changing with greater training opportunities and schemes like Christie's support for the National Film and Theatre School in the UK and with the work done by WAVE – Women in AV.
But Belinda believes that it's in education where the biggest difference can be made both in terms of equality and art. She first encountered Pandoras Box at college, using its Venue Sites feature to visualise complete stage, installation, and show-setups in real-time using 3D models. She's since gone on to undertake advanced Pandoras Box training, but without that first taste of what could be done, she doubts she'd have gone on to do it herself.
A creative explosion?
That also ties in with a creative projection-mapping explosion that Belinda thinks will soon detonate in art colleges. Students who've had one taste of new AV technology and systems can see what they can do – and think AV every bit as exciting and fulfilling as playing guitar in a band. This is a generation that doesn't see content and delivery as different. As far as they're concerned, both are made from the same creative stuff. With a potential they've only just started to explore.
It's an interesting thought – that AV should seek out raw young talent the way the music industry does, looking for diamonds in the raw to polish.
And in Ireland certainly there is an increasing appetite for talent. AV is booming there, many key players, such as Ion Solutions, are looking toward expansion in mainland Europe. That alone will mean taking a structured approach to finding talent both creative and technical. Belinda herself admits she did 'everything unknowingly right' without ever formally knowing this was the perfect career for her. Ion Solutions found her and saw the potential, but the worry is that she, and many like her, could so easily have been lost to AV.
What of the future?  There's a definite interest in production management and to work on an international stage. But, still in her mid-twenties, Belinda knows there'll be whole raft of new tech yet to emerge. All of which she'll be wanting to get her hands on before turning off the head torch, hanging up her rigging kit, and saying goodbye to the best job in the world.