Can you have cinema without cinemas?
What permanent projection mapping at TCL Chinese Theatre tells us about Cinema's enduring appeal.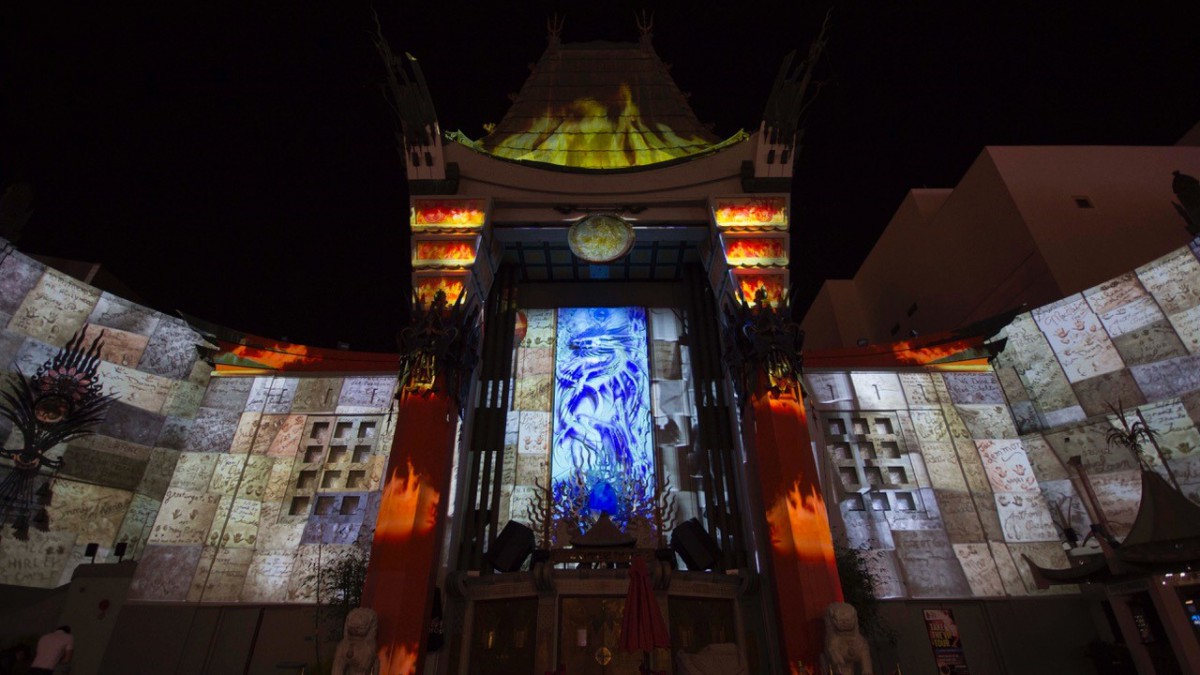 Christie has just completed a permanent projection-mapping task at the TCL Chinese Theatre in Hollywood Blvd. Now there's a place that knows the impermanence of fame.
For it's at TCL Chinese Theatre, (once known as Grauman's) that you'll find those pavement handprints and paw prints and Harry Potter wand prints that capture in concrete some of the magic that made it onto the screen. Something that asks a fundamental question about film – can you have cinema without cinemas?
To anchor our dreams
Even now, when it's possible to watch multi million dollar blockbusters on a 375 by 559 pixel smartphone, do we really still need something fixed to anchor our dreams? Something that, like those concrete handprints, can stop the magic flying away?
For all the technical talk of cinemas being the only place where films can be seen at it best and as their originators intended (all undeniably true by the way) it may be that it's our emotional attachment to cinemas and the sense of place they give to seeing a film that is the most enduring argument in their favour. We still go to the cinema because we like going to the cinema – with the emphasis on going.
For it's easy to forget what the originators of Grauman's instinctively knew. They built a mock chinoiserie picture palace because that made going to their cinema an event, no matter what was showing. You dressed up to go to Grauman's, it was a special place, and that made you feel special too.
Christie 360 Experiential Studios
In teaming up with TCL Chinese Theatre, Christie 360 Experiential Studios, Christie's own digital strategy and content creators have brought that feeling up to date. Using Christie Boxer 3DLP projectors in both 2K and 4K, Christie Pandoras Box real-time video processing and show control, and Christie Twist to expertly 'edge-blend' multiple curved images seamlessly, that famous architectural facade is now one giant canvas.
Images of those famous concrete handprints now tumble and twist across its face, clips of movies that played here snap into life, Metropolis, Citizen Kane, Gone With The Wind. Giant animated Chinese dragons writhe and snarl. And this isn't a one-off spectacular, this a permanent display open to all to see, it says, unashamedly, 'Look at the magic that happens here, in this building, in this theatre.  Now try getting those emotions from your smartphone.'
What's going to stop them?
The important thing is, of course, that the same emotional cinema magic happens today and everyday in cinemas across the world, in out of town multiplexes and in art-house single screeners. The question isn't 'Can cinemas survive?' It's 'What's going to stop them?'
Andy Warhol famously said that 'In the future, everyone will be world-famous for 15 minutes.' And it looks increasingly likely he was right, everything and everyone gets to be famous but only fleetingly.
That's where cinemas score. In a world where impermanence, of fame and almost everything else, is a permanent fixture, humans and as audiences really have not changed. We want something solid, those handprints in concrete and those statement cinemas. We will always yearn for somewhere out of the ordinary to experience extraordinary films – and only cinema can do that.