Tinsel and Lights
Around the world with Christie at Christmas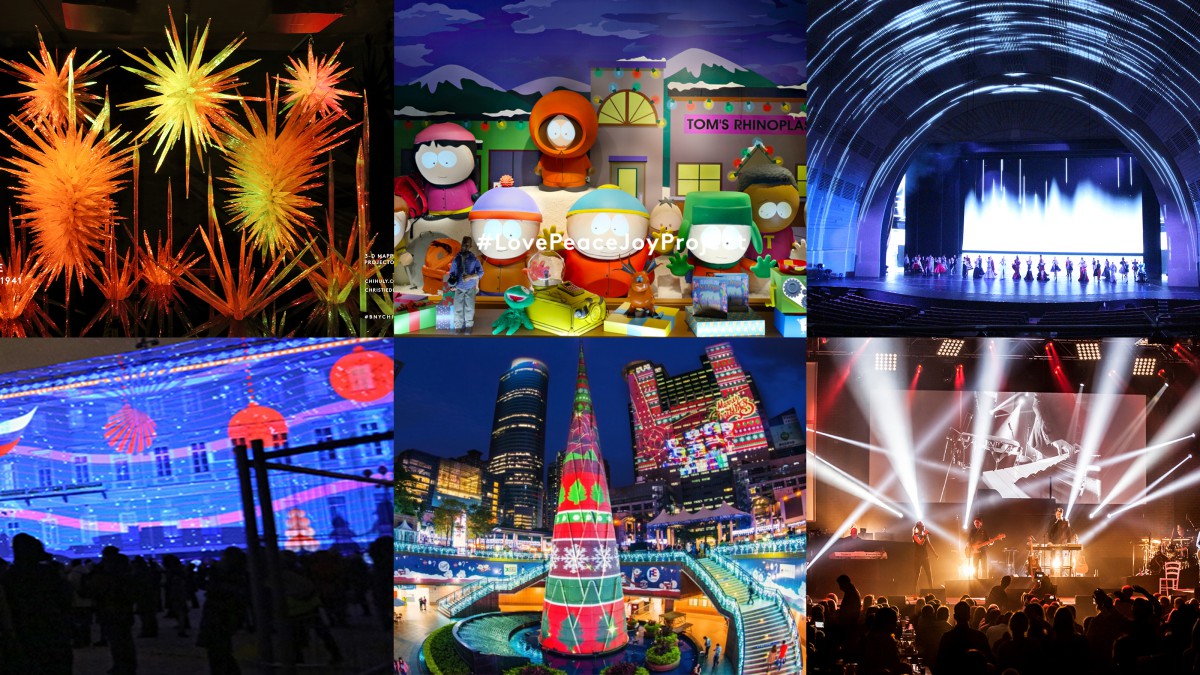 The two things we love most about the festive season? Getting presents and reminiscing. If New Year is a time for looking forward, Christmas is definitely a time to look back and indulge in the warm feeling a little mild nostalgia can bring.
And the presents? Well it's around this time of year that our partners start to unwrap stories of how they've used Christie kit to spread tinsel and light across the world. Those stories now stretch back years – we thought we share a few favourites.
Do you believe in Father Christmas?
First some shocking news. Not everyone believes in Father Christmas. Russian children believe in Дед Мороз (Grandfather Frost) and in 2014 he, his granddaughter Снегурочка, and national airline Aeroflot, lit up Palace Square, St Petersburg.
Had you been walking past the Winter Palace that year you'd have seen the magic that ETC Russia and thirty-six 3DLP Christie Roadsters can create – when Sila Sveta provide the content and long Russian nights provide the backdrop. We loved it, but then we've always loved St Petersburg in the snow.
A Christie Chorus Line
Then in 2016, and half a world away at New York's Radio City Music Hall, those all-American icons the Radio City Rockettes put on their Christmas Spectacular using a chorus line of twenty-two Christie Boxers. DWP Live did the content honours on the day high-kicks met high-tech projection. When you'd taken in the show, grab a yellow cab, and you could be at Barney's on Madison Avenue where their shop windows celebrated South Park's 20th Anniversary. South Park's own Trey Parker and Matt Stone provided the content, and that doesn't happen often.
Hello Mönchengladbach!!
What better time than Christmas to indulge in the warm embrace of something familiar, perhaps with a rock and roll edge?  Maybe that's why German covers band Booster's 'Booster Silent Night' concerts are wildly popular. Rocking out with Booster has become as much a tradition in Mönchengladbach as taking nips of Brandy punch in the Christmas markets.
We were there, waving our lighters in the air and getting mist eyed as LivePlus worked their technical magic using four Roadster HD20K-J's, FHD551-XG and FHD461-X LCD panels and a Christie Spyder X20 to get us on our feet.
Santa Bear in New Taipei City
Contrary to what the movies would have us believe, not everyone one gets snow at Christmas – certainly not in New Taipei City Taiwan. No, what you get is something far more spectacular – Christmasland. The adventures of Santa Bear and the Fang Tou Bear family projected onto New Taipei City Hall's thirty stories and 360o projection onto a 36 meter cone-shaped Christmas tree. Who needs snow when you have forty-two Christie Boxer 4K30's and a partner as creative as Hexogon Solution?
So there we have it, a handful of Christmas specials, some of our favourites among them, from the many thousands around the world. Happy Holidays everyone.
DWP Live has been pushing pixels since 2007. They put Beyoncé's 'I Was Here' music video inside the United Nations General Assembly Hall for World Humanitarian Day – and Madonna in a Super Bowl XLVI halftime show.
ETC Russia specializes in creating dynamic video projections on buildings – including St Basil's Cathedral in Red Square.
Hexogon Solution create custom, 3D projection installations, event displays and exhibitions – a full-service provider offering design, creation and set up of complex installations.
LivePlus are a full service agency for comprehensive live communication. Founded in 2006 they've worked with everyone from Airbus to Yves Saint Laurent.
They say they are 'the first call for every outrageous, unthinkable and unknown possibility in the field of digitally immersive experiences.' Offices in Los Angeles and Moscow.