Dubai Parks and Resorts.
It's big, but big enough for Bollywood?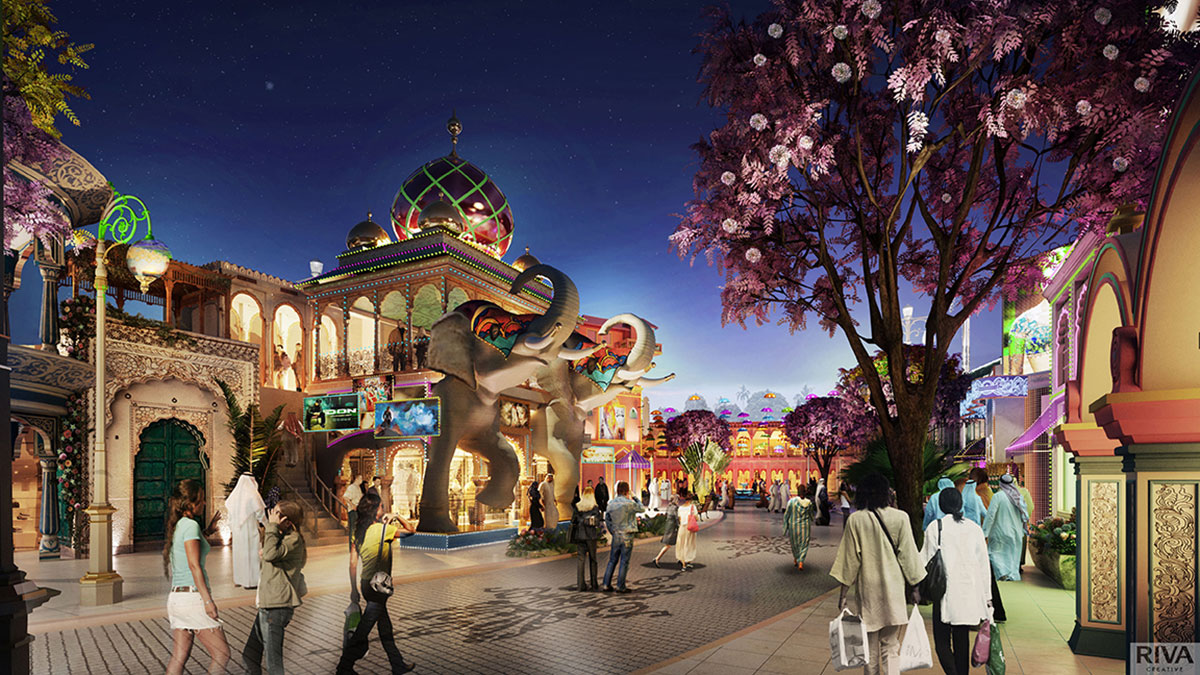 It has a Columbia Pictures and Dreamworks. It has a Kung Fu Panda Academy and a Smurf Village. It has two Legolands. Two. And it has the world's first Bollywood theme park. This is Dubai Parks and Resorts and with more than thirty Christie projectors, it doesn't do anything by half.
It's the sheer scale of the place that impresses first, it is as though the template established by Disneyland has been amplified and extended. You could spend a week here and still not run out of rides to take and things to see.
A wonder it's not been done before
But it's Bollywood Parks that really stands out. Bollywood's output is so perfect for the theme park treatment it's a wonder it's not been done before. Their heroes and heroines are more heroic, their villains more villainous and they have gods that make Batman look boring. Their musical numbers are as mesmerising as anything out of MGM.
With India's middle class becoming increasingly affluent, and with Dubai just three hour's flight from Mumbai, Bollywood Parks is looking like a very smart move indeed. It won't just be Indian audiences who pay a visit either; drawn by the other attractions and boosted by a worldwide diaspora, Bollywood Parks is indicative of the long-expected breakthrough of Bollywood and the Indian film industry as a whole.
Take a look at the movies they have chosen for the park. Lagaan – an uncomfortable but uplifting story of the British Raj was nominated for an Academy Award, Krrish, a science fiction superhero film that won Filmfare awards for best special effects, best action and best background score and RaOne – another science fiction offering and a special effects breakthrough in Indian filmmaking. It doesn't matter which continent you were born on, these are good movies – and good box office too.
The best of everything
Even if your only taste of Indian Cinema is Slumdog Millionaire, this is still a great place to be – and this being Dubai everything is imagined and constructed to the highest standards.
There are two HD14K-M 1080 HD 3DLP digital projectors at the RaOne 4D theatre, three Christie D4K3560 high frame rate 3DLP 4K projectors at Krrish and a pair of 4K CP4230 DLP Digital Cinema Projectors at Raj Mahal. There are Boxer 4k30s at Ghostbusters and more HD14K-M's at the Underworld 4D theatre in Motiongate – indeed you'll find high-spec Christie projection just about everywhere you look.
Ambition, ambition, ambition
Only a few years ago a park on this scale, in this location and with these attractions would have been unthinkable. It would have been considered too remote, Bollywood too niche and the investment too risky. But Dubai Parks and Resorts shows that something we've always suspected about theme parks remains true – they can't be over ambitious. An excess of ambition is exactly what visitors want. They want bigger, brighter and brasher. They want new experiences they can't find elsewhere, they want the best rides, the best projection and the biggest entertainment hits, and some will travel the world to find them.
That's why Theme Parks and Bollywood is such a perfect match – neither could be accused of a lack of ambition – and that's a wonderful thing.