Laser Projection cooks up the perfect menu for Repsol
"The first bite" they say "is with their eyes." And whilst we don't know who they are (we suspect it's not kebab van owners) there is truth in it and it's certainly true of the cuisine that featured in Spain's Repsol Guide and its 2016 launch party.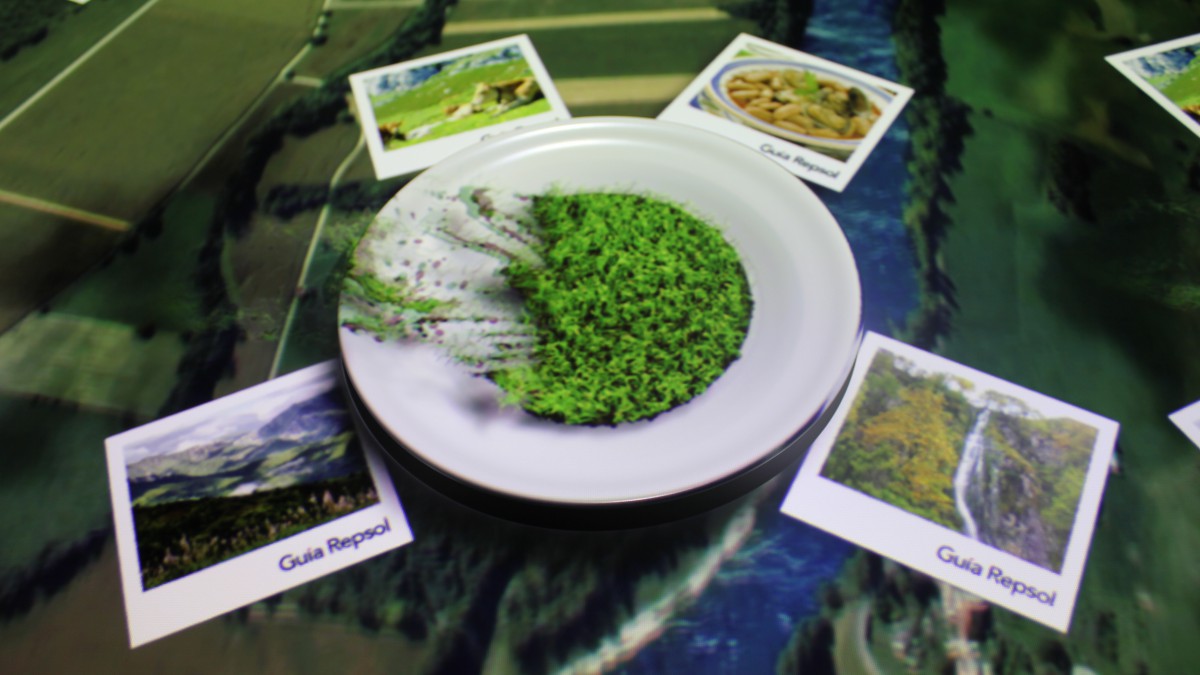 Repsol is Spain's most famous travel guide, and its emphasis on food is hardly surprising given Spain is the home of Tapas, Gazpacho and Pinchitos. But that makes any Repsol launch a little tricky. When there is just so much great food in Spain and when every region has a speciality, it's impossible to do every dish justice in a single sitting. Who could choose Chicharrón over Pringá or Tarta de Santiago over Turrón?
Pure white tables
That was the challenge faced by Christie Partner BNC Audiovisuales, the MacGuffin events agency, art directors Otu Cinema, and graphics specialists Romera Diseño e Infografía. They'd set out to create an event that would delight and intrigue the palates of some Europe's pickiest food journalists.  But when twenty of those journalists found themselves sat around simple refectory tables – simply laid with pure plain tablecloths and plain white dinner plates – they might have been forgiven for thinking that endless worthy speeches and tiny taster dishes were on the menu once again.
Until, that was, the plates in front of them filled with mouth-wateringly real projection mapped video, and that long white tablecloth unfolded into a stunning visual tour of Spain's culinary heritage.
Óscar Testón, of Otu Cinema, recalls achieving the effect: "We had to make sure that the production was believable for a person sitting at the table with a viewpoint very close to the projection. We needed to ensure maximum resolution and minimum noise levels and that's why we immediately thought about WUXGA laser technology projectors." Alfredo Cañas, MacGuffin's technical director, added: "We needed lots of brightness … and we had to make room for six projectors with almost 6000 lumens each in a tight space… anything besides laser would have been impossible because of the noise…"
Ultra-quiet laser projection
The task of finding ultra–quiet projectors that didn't run as hot as a Seville Sous Chef in September fell to BNC Audiovisuales and they chose Six Christie DWU555-GS laser diode, 1DLP® projectors with WUXGA resolution and 5400 ANSI lumens. Three projectors were vertically mounted above each table, equipped with a 1.5 lens to cover a third of the image. Accurate blending and warping were also essential if the images were to fit believably onto the plates in front of each guest, a single millimetre out and the entire effect would be spoiled.
Juan José Vázquez Hernández of Romera, developers of the audio-visual content for the dishes and tables, was enthralled "Seeing the end result first hand was much more impressive that we had imagined. The brightness and the quality of the images were stunning."
Repsol's 2016 launch showed just how much creative freedom modern projection technology can bring to the table, and how it can make even the most ambitious concepts a reality. It also shows that practical considerations, like noise levels, can often make or break an idea. But find the prefect projector, put it in expert hands and you're assured of a genuine feast.