Brighton's Royal Pavilion is a mad building.
Brighton's Royal Pavilion is a mad building. Started in 1815 by architect John Nash for George IV when still Prince Regent, Brighton's Royal Pavilion is like no other building in the world. Think of the Taj Mahal shrunk to one eight its size and encrusted like a wedding cake and you still won't be close.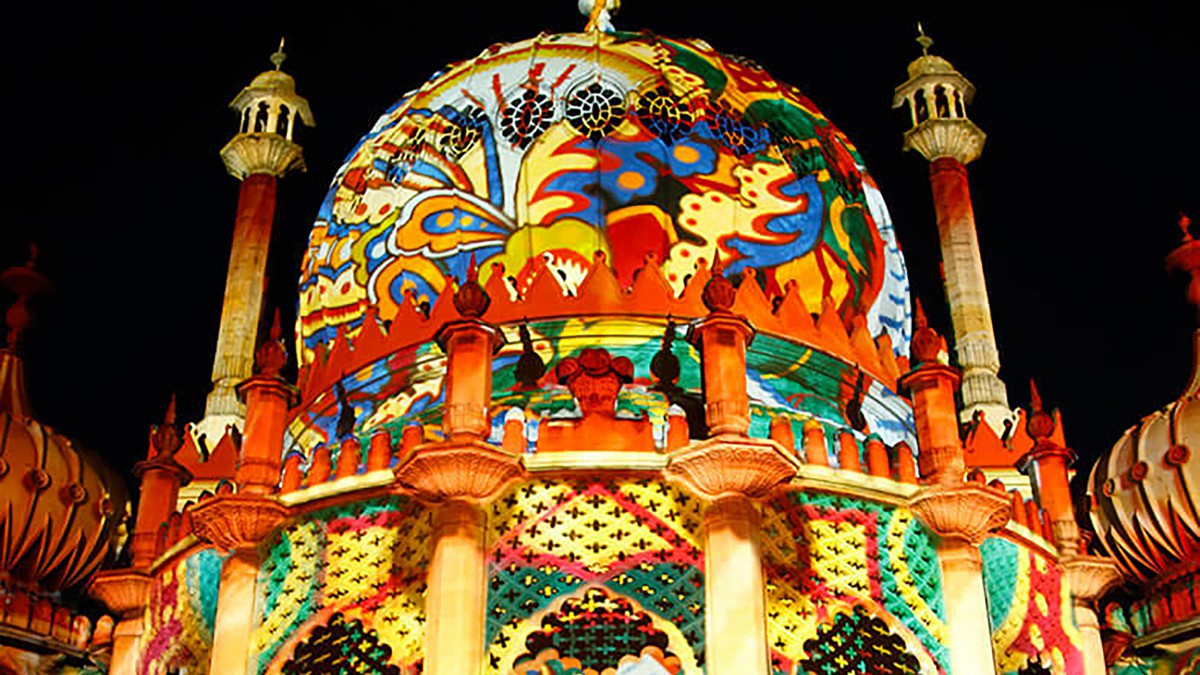 There are minarets and domes and pilasters and porticos, not one inch remains flat, undecorated, unembellished or unencumbered with detail. It is a very special building – and it takes a very special company to even consider it a suitable case for image mapping.
That company is QED Productions, and the man who leapt at the chance to transform John Nash's masterpiece for the 50th Anniversary Brighton Festival Commemorations is Paul Wigfield. Where it would have been easy to see technical difficulties they saw the creative possibilities. So in partnership with performance company Nutkhut, aimed to make the Brighton Pavilion not just a performance backdrop  – but an integral part of the story.
Indian Inspiration
During the First World War The Brighton Pavilion had been commandeered by the British Army as a hospital for Indian soldiers. In a World War One Commemoration year, that had to be the inspiration. So Dr Blighty was born; directed by Ajay Chhabra this 10-minute piece created by immersive animation experts Novak and with music by Shri Shriram and Ed Carter told the near-forgotten story of soldiers who had travelled half the world to fight.
Novak's design called for uninterrupted, continuous, material that flowed across every surface, and that meant covering every feature with projected light from every possible angle, – behind columns as well as obvious architectural features. It was not until Dan Gray, QED's Head of Digital Media, pre-visualised the building that it became clear quite how many projectors this would take. In the end twenty-two synchronised outputs were needed – and 500,000 lumens of projection power so the show could go up before nightfall.
It took six Christie Boxer 4K30 30,000 lumen projectors and sixteen Christie WU20K-J 20,000 lumen WUXGA projectors to provide this, arranged in landscape and portrait orientations and with a range of lenses from 0.72:1 to 3.89:1. Individual projector feeds were delivered via a multi-core fibre-optics while nine structures housed the projectors and control equipment.
Publicity had, deliberately, been low-key. But the moment the Royal Pavilion changed colour in the gathering dusk, social media did its job. A few passing spectators grew to fascinated crowds as word was passed and Dr Blighty's story unfolded. Soon there was standing room only and the Place lawns were awash with people, drawn to one of Brighton's greatest spectacles and most applauded show in years.
Quite what those WW1 soldiers would have made of it – this little piece of Indian Architectural art brought to life in an English seaside town – but George IV? We think he'd have been delighted – all that extra decoration, all that attention!