SPACE, Secret Location, and a trip into an artistic unknown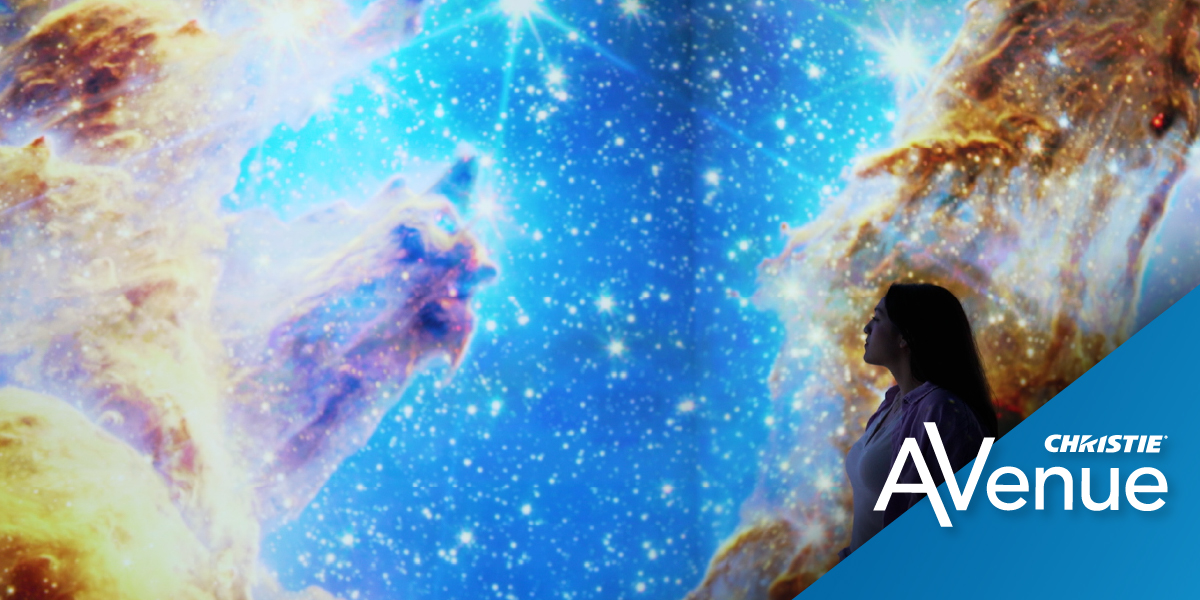 In his 1911 "Manifesto of the seven arts", Ricciotto Canudo outrageously included Cinema as his seventh art worthy of a place alongside the ancient arts of architecture, sculpture, painting, music, poetry, and dance. Today, he's seen as a visionary. Back then, maybe a fool.
And that's the trouble with artistic predictions: there will never be proof you were right, just a future consensus that you were. So it takes a brave mind to make them.
But that, in effect, is what Illuminarium Experiences and their collaborators, two-time Emmy® Award winners Secret Location, are doing. Secret Location is a content and technology studio for emerging platforms, Illuminarium the venue operator, and together, they're imagining an entirely new art form into being. Or at least giving it a helping hand.
Illuminarium is a unique adventure that brings fully equipped immersive spaces to large cities. Importantly, these are not single-use attractions, but spaces designed specifically to show an ever-changing program of original content the way movie theatres show movies. Secret Location CEO Ryan Andal describes Illuminariums as immersive canvasses, blank spaces to be filled by anyone with the skills and vision to fill them. There are already Illuminariums in Atlanta, Las Vegas, and now Toronto's historic Distillery District, with many more planned.
A technical and artistic challenge
Technically, as well as artistically, these are ambitious projects, as Joseph Conover, Christie's director sales, live events Americas, explains. "Each venue typically employs around 30 to 40 projectors, and each one is seriously powerful — including the world's most advanced RGB pure laser projectors from Christie. Then there are LIDAR (light detection and ranging) sensors for interactivity, unique digital audio, and programming that uses the latest video game engines. Some locations even have scent machines."
All that gear has to run in harmony all the time. And Joseph says it's Christie's long experience in the cinema industry that allows that. "You want a system that's holistic. That works together, talks together, communicates together, but you also want a company that stands behind everything and ensures it's maintained — and maintained in a predictive, not a reactive manner because this is a live show. Our cinematic experience means we have the ability, through our specialist software and support systems worldwide, to make sure of that. Sure, we'll be onsite for scheduled maintenance when the show is dark, but we also remotely monitor and measure multiple data points through the cloud and make a predictive index of how these units are running — so we can keep them running at peak."
The art is out there
So, the platform is there to launch a new art form — but what about content? Where will the new artists come from? Ryan Andal says they're already here; we just don't know it yet. "True artists work in the digital sphere, but the world doesn't recognize them as such — because it's digital. They have as much to say and as many unique ways of saying it as anyone. I've been privileged to work with many of them, I'm in awe of what they can do, and it's about time the art world was too. I believe Illuminarium and projects like it can bring digital artists to a wider audience. There's a new Renaissance waiting to happen, and Illuminarium is the start.
As leaps into the unknown go, Illuminarium and Secret Location are taking a pretty giant one. At "SPACE: A Journey to the Moon and Beyond," their combination of art and advanced tech allows visitors to take extraordinarily immersive journeys across the galaxy, circling Saturn's rings, kicking up moon dust, and dodging through asteroid belts. But this show, impressive though it is, is just the start of a longer artistic journey seeking a new eighth art. It's going to be quite a ride.