The art of collaboration at the Barbican Centre.
Exploring the power of artistic partnerships at this London landmark.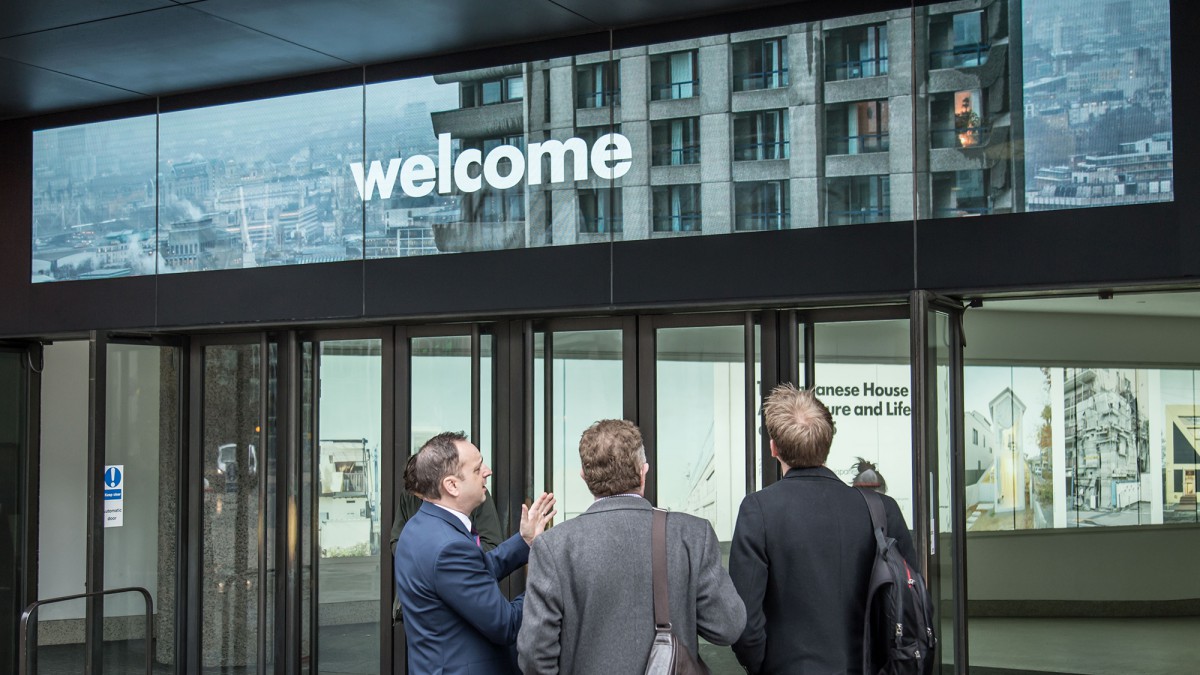 If one of the joys of this business is creative collaboration, one of our greatest joys must be collaborating with the Barbican Centre. This relationship grew almost organically; the more the Barbican saw what could be done with Christie technology, the more they wanted to use it and the more Christie saw what the Barbican were doing – the keener Christie wanted it to happen.
Indeed, it's hard to overstate how proud Christie is that its logo now sits on the Barbican website alongside just one other, The City of London Corporation's. The owners of this vast London complex that includes the art center comprising concert hall, two theaters, two art galleries, three cinemas – and the jewel in the crown – the larger Barbican Estate, which contains a library, the Guildhall School of Music and Drama and 2,000 housing units.
Nevertheless, alliances like these take work. The Barbican lives and dies by its international standing and artistic output, and if Christie technology can't add to both in real terms, it can't expect its logo to stay.
In the beginning
However, let's start at the beginning when reputations weren't set and the world watched not quite so closely. And with the unproven idea that the Barbican's public spaces could provide a platform for art made with complex technologies.
In late 2016, Zarah Hussain's 'Numina' arrived. It projection mapped Islamic Art's repeated patterns onto a tessellating pyramid sculpture and we loved it as did the Barbican. But would the rest of the world?  Social media, we were relieved to discover, did – oh how it did. Numina was the runaway winner of the 2016 Lumen prize's People's Choice Award.
Then, with John Akomfrah, it happened again. When his ambitious six-screen, ten-country, video installation 'Purple' came to the Curve at the Barbican and highlighted the effects of climate change, over 43,000 visitors saw his white-suited figures as they contemplated wolves roaming free, virgin arctic snow, playing children, blighted landscapes and politician's promises.
And those oh-so-hip commuters sipping café cortados beneath the giant, Basquiat-inspired, glitch art on the Shoreditch Digital Canvas at London's Silicon Roundabout? They were watching an idea that first took flight in the Foyer space as Barbican Young Creatives responded to Basquiat: Boom for Real.
Yet the story doesn't end there. Plans to enliven the Barbican's public spaces with a series of Christie-driven projection and display areas are well along and attracting audiences. A new initiative titled Level G, Always Open, Always Free already has a rolling program of events, installations and performances that anyone can attend without charge – and even use communal desks to work. And the Lumen prize Zarah Hussain won? Their 2019 award ceremony is already inked-in for Barbican's Cinema 2.
The same status as mainstream art forms
When Sir Nicholas Kenyon, the Barbican's Managing Director says 'Christie's cutting-edge hardware and software has proved transformational in allowing us to realize the vision of the outstanding artists we commission,' what's important is not his praise for our hardware and software – nice though that is. It's his recognition that artists who choose to use AV in their work are as outstanding as any invited to appear anywhere at the Barbican.
It's also important for the AV community as a whole because it brings digital art and audiences into the same building and gives them the same status as mainstream forums. AV, it says, is as valued here as classical soprano Measha Brueggergosman singing Ravel and Debussy.
In a commercial world
At this point, you'd be forgiven for wondering if Christie might have lost the commercial plot. Art is wonderful and human and life affirming – but what does that have to do with boardroom LED screens and in-store displays? The answer is that what art attempts today, the commercial world adopts tomorrow. This is Christie's investment in that process, and it is as important to our business, our partners, and us as our investment in R&D.
The results may not appear formalized in a spec sheet or whitepaper, but Christie knows from its cinema work that ignoring external creative voices ignores a huge pool of energetic talent that is out there now, collaborating like mad, finding new audiences, and clearing paths we will all soon tread.