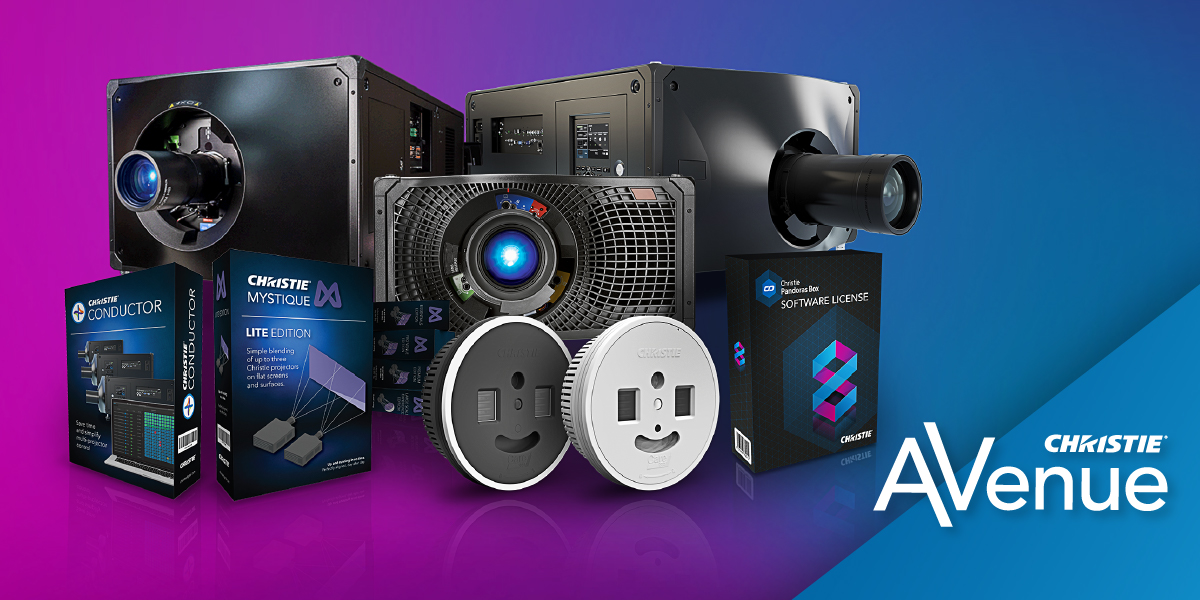 2020 has definitely been an unusual year, leaving just about everyone's lives – and businesses – disrupted. But one way or another, things still got done; the world did still turn. And for Christie, as an essential services provider, that meant new products, new tech, and supporting our customers as best we could with extended warranties, enhanced online training, and more. Because that's what Christie does.
That's not to say it hasn't been tough: it has. The AV industry is struggling still. Industry names we never thought could go, have gone. Even so, 2020 saw invention and innovation that would be impressive in any year. So here's to those, and to any glimmers of good stuff that shone through when times were dark.
RGB laser's influence is spreading
RGB pure laser is still a big story, and its influence is spreading as the tech gets smaller, lighter, quieter, and less expensive. It's this practicality – innovative tech teamed with an immense leap in color – that makes the new Griffyn™ 4K32-RGB special and much needed in the large-scale event space and theme park rides and attractions. Even at full power, it's quieter than the average domestic refrigerator. Not bad for an all-in-one projector with 32,000 lumens, delivering Rec. 2020 color, advanced processing, a ridiculous number of inputs, AND remote control to adjust colors for picture-perfect image alignment. Handy when it's up in the rigging, and you're not. Another new 4K RGB laser projector is the 50,000 lumen Mirage SST – weighing only 113lbs (50kg), it's definitely a powerhouse in a small package. With its fiber-coupled, ultra-compact projection head, and the remote light source and chilling equipment installed well away from the head, it's a flexible and quiet solution for theme parks, projection mapping, domes, and planetariums.
New tech has also been instrumental in RGB pure laser's further spread in cinema. PLF means large screens, and there's nothing better than RGB pure laser to fill them – and the new CP4450-RGB does that at 4K at 120 frames per second. This doesn't mean innovation's lacking at the other end of the cinema scale either – small screens deserve just as much laser love. RGBe is a range of price-conscious cinema projectors that takes advantage of RGB laser illumination and CineLife™ electronics to impress smaller-screen audiences like never before.
Solutions our customers value and need
Sometimes innovation isn't about breakthrough tech but breakthrough ideas. And it's always about providing solutions our customers value and need. Take an inexpensive off-the-shelf webcam, add Mystique™ Lite software and you can warp and blend up to three supported Christie projectors in a single horizontal projector array on any flat surface, at the click of a mouse, in just a matter of minutes. And all for the cost of that webcam – the software's available to download at no additional cost.
And even top-of-the-line kit gets better with a little original thinking. Conductor now lets you monitor and control up to 256 supported Christie 3DLP® projectors from your laptop. Very handy when you have more than 250 of them in your care – as they do at Expo 2020's Al Wasl dome in Dubai. Like Mystique Lite, Conductor software is available to download at no additional cost.
Pandoras Box reimagined
In 2020, Pandoras Box software first made the jump to 64-bit and, shortly after, to an entirely new render engine. Its new solid core technologies provide immense performance increases for simultaneous playback of larger files (or just more of them) while also laying the foundation for new developments. Breaking news in January 2021, a completely reimagined Pandoras Box Version 8 Software License designed as a complete software package, with the addition of Dante® audio and the ability to use NDI and Notch to create more versatile interactive installations. What does this mean? Customers can combine the entire feature-set of this latest software with their existing hardware, or, of course, with our next generation Pandoras Box media server with state-of-the-art components.
Perhaps the biggest news of all – CounterAct
Christie CounterAct™ with patented Care222® technology is good news. Especially in the time of COVID, it's good news. Care222 technology effectively inactivates pathogens, like the SARS-CoV-2 coronavirus that causes COVID-19.
A UV disinfection fixture, CounterAct uses our parent company Ushio's ingenious and proprietary Care222 far-UVC light. This, uniquely, can be used continuously while people are present. When correctly used, it inactivates pathogens, including COVID-19, disinfects surfaces, and works just about anywhere people gather indoors.
Of all our 2020 innovations, it's the one that really could help the world open up since it acts as an extra layer of defense. It could allow sporting arenas, entertainment venues, shared spaces, hospitals, offices, and so many other places reopen sooner and restore much-needed visitor confidence. It's something special, and you can read why it's such a big deal here, in this issue.
Let us know your standout innovation
Quietly, under the radar, 2020 has been a year of innovation. The mRNA vaccines now in testing are just one astounding example: one that many experts thought implausible before the year began. So, what are your standout innovations of 2020? What do you think will change your world, in the year the world changed?