Standing tall. Why the world's largest statue matters to India.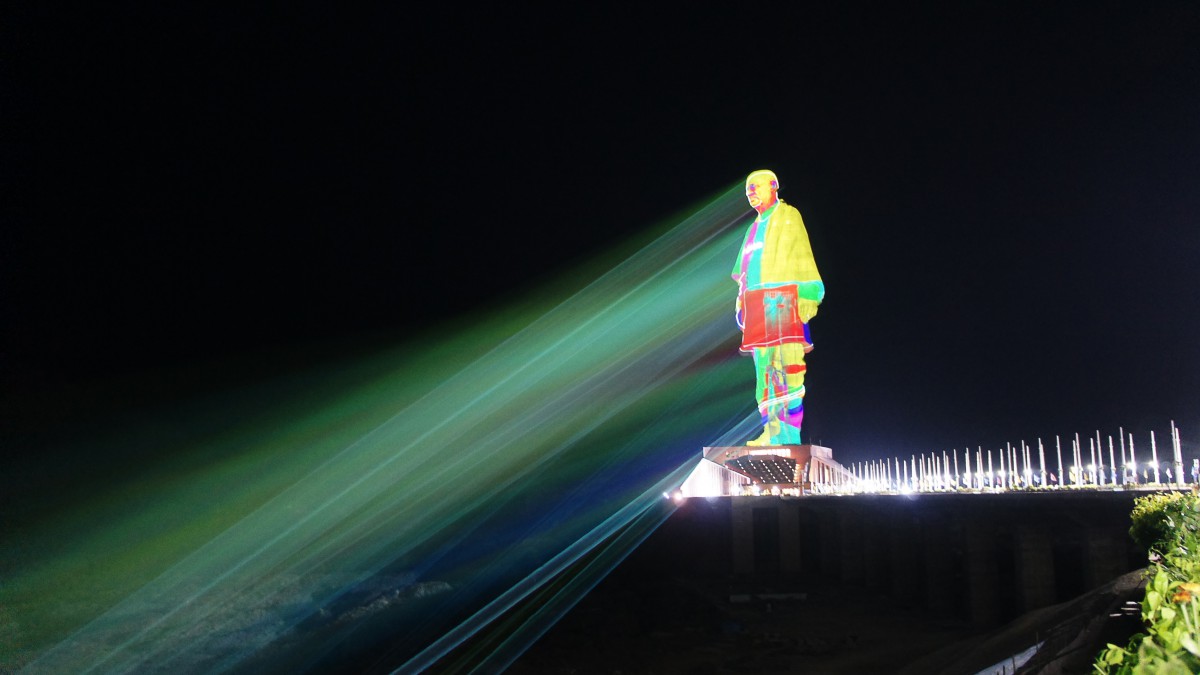 The Colossus of Rhodes, the Statue of Zeus at Olympia, the Great Buddha of Thailand, the Statue of Liberty. If you want to celebrate an individual or idea going big. Big, it would seem, is the only way to go. And now a new statue that has joined the behemoths and the colossal – one that towers above them all. India's Statue of Unity.
It's now officially recognized, by the people who measure these things, as the world's tallest statue. And when we say tall, we mean tall. Taller than ninety Michael Jordans, taller than the seventeenth hole at Pebble Beach is long. We're talking 182 meters (597 feet) tall.
Independence
It shows Indian statesman Sardar Vallabhbhai Patel – a man whose stature in India's independence struggle equals that of Mahatma Gandhi or Pandit Nehru – striding into the future. That makes this huge statue a symbol of India's increasing self-confidence, a concrete and bronze belief that the world should know more of the country's history, achievements and heroes.
That's why the Indian people so took it to their hearts – and why much of its steel frame is built from scrap machinery donated by thousands of farmers. The Statue of Unity is a matter of huge national pride, not only for its scale but for the scale of the successes it represents.
Honored
And for Pyramid Technologies – Christie's Indian partner chosen to provide the projection that lights it up nightly? You can hear the emotion in Managing Director Ajay Parwaney's voice when he says they were "Honored to be involved in this monumental project from the conceptual stage – The light and sound show at the Statue of Unity has received immense appreciation globally … we are extremely happy to be associated with this."
And with good reason. Pyramid and German laser show producer HB-Laser were responsible for just about everything – the complete design, the content creation and the storyboarding, the supply and installation, the testing, and the commissioning.
Knowing that nothing quite of this scale or importance had ever been attempted before, they undertook a detailed projection study early on – and during that process a firm preference soon emerged in the shape of fifty Crimson WU25​ 3DLP® laser projectors. That makes us a little emotional too.
When your target is one hundred and eighty-two meters high, your projection booth is six hundred meters distant and your show is visible seven kilometers away, you must be certain the equipment you've put your trust in is up to the job. People will notice if it isn't.
An entire nation
That's why the IP5X-sealed solid-state laser illumination and rugged build of all those Crimsons is important – they'll need to provide years of reliable and all but maintenance-free operation under the gaze of an entire nation.
So, today, as dusk falls across Gujarat, as those fifty projectors come to life, as they will every night for years to come, the story of India's independence will be told again.
This may be the tallest statue in the world but the story it tells is bigger still.